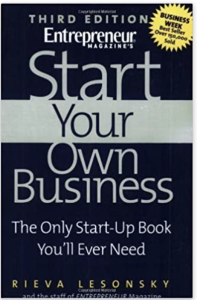 When you decide to start your own business you set yourself to one of life's great challenges. Launching a business can be both exciting and daunting. It requires dedication, hard work, and a strong understanding of what it takes to be successful. The book Start Your Own Business by Rieva Lesonsky offers valuable insights and practical advice on how to start and grow a successful business. 
Rieva Lesonsky is president and CEO of GrowBiz Media, a custom content and media company. GrowBiz focuses on small business and entrepreneurship. The company also publishes the blog SmallBizDaily.com. Prior to starting GrowBiz Media, Lesonsky served as editorial director of Entrepreneur magazine. 
Steps to Start Your Own Business 
In what follows, we will outline some of the key points covered in the book.
Identifying a profitable business idea: One of the first things Lesonsky emphasizes in the book is the importance of identifying a profitable business idea. The author stresses the importance of researching the market. She stresses the need to understand the competition. And she urges that you consider your skills and interests when choosing a business. Lesonsky also covers the importance of testing your business idea before investing significant time and money into it.
Developing a business plan: A comprehensive business plan is essential for success. Lesonsky provides step-by-step guidance on how to develop a business plan. These include advice on how to identify your target market, set goals and objectives, and create a financial plan. She also advocates for regularly reviewing and updating your business plan to ensure that you stay on track.
Marketing and sales: Lesonsky covers the various marketing and sales strategies that can be used to promote your business. She discusses the importance of building a brand and creating a strong online presence. We appreciated the fact that she recognizes the tools that social media and email marketing afford for reaching your target market. She also covers traditional marketing methods, such as print and broadcast advertising. And she provides practical advice on how to develop a successful sales strategy.
Financing: Starting a business often requires significant investment. Lesonsky covers the various financing options available to entrepreneurs. She discusses the pros and cons of traditional bank loans, venture capital, and crowdfunding. Moreover, she provides advice on how to secure funding for your business.
Building a team: Lesonsky highlights the importance of having a strong team in place to support your business. She covers the key steps to finding and hiring the right employees. You'll find discussion of the importance of providing training and support to help those employees succeed. And the author knows and extols the virtues of managing your employees effectively, including setting clear expectations, providing feedback, and recognizing and rewarding success.
What Others Have Said About Start Your Own Business
Checking out the sentiment on GoodReads, one finds this to be a popular book with 166 readers who gave the book a rating of 3.73 out of 5 stars.
"A must-read book on entrepreneurship for knowledge workers and aspiring entrepreneurs."  – Lori G., GoodReads
"A good introduction to what it takes. However, this book is rather too thick in my opinion, and is perhaps too broad to be truly useful. This book covers all types of businesses from store front services to manufacturing to bars to software concerns and more."  – Josh R., GoodReads
Incidentally, another book we have reviewed and that we found valuable for entrepreneurs (albeit in an indirect fashion) is The Tipping Point, by Malcolm Gladwell. 
the bottom line
Start Your Own Business by Rieva Lesonsky is a helpful resource for anyone looking to start and grow a successful business. The book covers the key points that entrepreneurs need to consider. These range from identifying a profitable business idea to securing financing and building a strong team. Whether you are a first-time entrepreneur or an experienced business owner, this book provides valuable insights and practical advice to help you succeed.