So what does Twitter offer your business?  And how-in-the-hashtag does one use it effectively?
Twitter has a clean layout and an easy process, and it has established itself as one of the more enduring social media marketing tools for businesses. All the top social media platforms (Twitter, Facebook, LinkedIn, Pinterest, Instagram) work to attract brands and all have similarities, and the best strategy is to use the appropriate platforms for your business.
Check out these 4 ways that Twitter sets itself apart as a quality marketing resource, each accompanied by a tip for how to use Twitter effectively.
How to Use Twitter for Business + 4 Twitter Tips
Learning how to use Twitter for business is not difficult, but if you're new to Twitter or social media, then it might seem baffling, at first. Every social platform a jargon all its own, but for each the outcomes bear many similarities. Social media gives brands exposure, promotional opportunities, and the opportunity to interact with clients and potential clients.
First, understand that Twitter offers a lot of support for novice social media users via blogs and help pages. The platform is conducive to businesses connecting frequently with consumers, and conducive for controlling many specifics of those businesses' Twitter ad campaigns. These are the top 4 ways your business can take advantage of Twitter.
1. Connection
The raw attraction of social media is the connection you make with customers, am I right? All social media platforms connect you to your customers in their daily lives, but Twitter offers closer connections and more frequent engagement.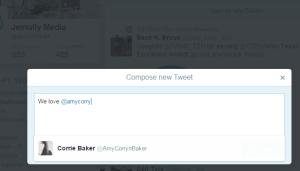 Twitter furnishes an open, direct conversation with your customers by using their personal handles. I was easily able to tag my handle, @AmyCorrynBaker, from the @JemullyMedia Twitter account (pictured). Other social platforms let you send private messages, or converse via comments, but none are as direct as Twitter.
Rob Leathern, CEO of Optimal, explains why big brands are experiencing a faster following growth on Twitter than on Facebook. A brand's Twitter audience–even if it is smaller–is more engaged. On Twitter, your business can easily see and access it's customers, which allows you to cater directly to them. This feature isn't available on Facebook, one of the most popular platforms.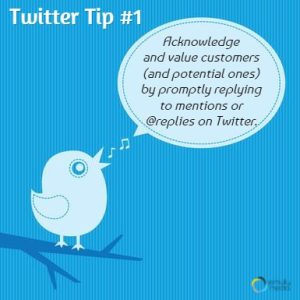 After comparing levels of brand engagement on Twitter versus Facebook during the 2015 Superbowl, AdWeek agreed that Twitter is the place for brands. Out of over a million posts about brands and the big game, 1,513,527 were on Twitter.
 "Twitter appears to still be the place for live social media commentary, especially for brands that have to pay to get the most out of their Facebook activity." – @GarettSloane of AdWeek
2. Versatility
Twitter provides the greatest versatility for posting: it supports text, hashtags, links, images, and the recently rolled out Twitter video. Not only does it have the most versatile posting functions, these functions as a whole are more successful marketing tools on Twitter than on other platforms.
Take hashtags, for example. The first hashtag appeared on Twitter in 2007 when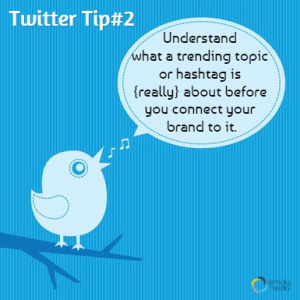 Chris Messina tweeted using "#barcamp." Perhaps because they are original to Twitter, hashtags are most successful on Twitter, especially for businesses. According to Buffer's @KevanLee, businesses can see up to a 50 percent increase in engagement simply by adding one to two hashtags to a post.
One reason Twitter is so popular is because of its versatility:
It isn't Facebook. The layout and MOA are different, and this appeals to an increasing number of users.
140 characters are easy to skim and offer much variety in each user's feed.
The ability to connect with strangers who share your interests without showcasing to them your personal details, photos, and whereabouts is key.
Sensational networking opportunities via Twitter Chat.
No other platform shows more users engaged in real time happenings, be it a sporting event, awards show, or the current airing episode of The Big Bang Theory.
140 characters encourages specificity–when done well, this translates into more personalized and captivating tweets.
#hashtags are fun, plain and simple!
3. Advertising
Twitter ads were introduced in April of 2013 and since then, the ads have become more user-friendly and concentrated. You can pay to promote a tweet, an account, or a trend. Once you decide what to promote, Twitter allows you to target the audience, set a budget, and measure and analyze its performance.
Twitter ads give you the ability to connect with people in context so they aren't meaningless, floating advertisements. Twitter explains,
"On Twitter, people talk about what they care about and what's happening around them right now, including your business. This gives you powerful context to connect your message to what's most meaningful to your customers in real time. Engaging with real-time Tweets can influence conversations in a way that can help build your business."
Twitter is the place for real time posts. Check out Oreo's tweet that went viral simply because they worked fast to provide an astutely relevant tweet-ad during this year's Superbowl.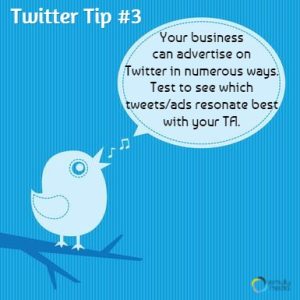 4. Marketing Resource
The people at Twitter are smart. They offer businesses thorough support for learning and using their platform. They offer a blog targeted to small businesses, plus they developed an app called Twitter Small Business Planner. This app is created specifically for the time-crunched business owners who want to do the smart thing with social media, but don't have a lot of time. The app is full of tactical advice and guidance, created by the people who know the platform best. They also offer individual blogs for Twitter ads, media, developers, brands, and more.