What Is Twitter?
Maybe you've heard it before. There are some people who will say, "What is Twitter?" "I don't 'get' Twitter," and "how can Twitter help my business?" The implication is that they 'get' other social media, but not Twitter. This makes as good a place to start as any, if we are to examine Twitter as a social medium where businesses could and should have a presence. Twitter.com is a social media platform like no other, and grasping its differences is the first step to understanding how a business can get the most from it.
Facebook vs. Twitter
So, why do some not understand Twitter?
Probably the biggest reason is that they bring the wrong expectations to it. Other social media platforms have more straightforwardly obvious reasons for existence. Facebook, on the web, is ubiquitous. And as such it is generally the standard-setter, where social media is concerned. It is quite different from Twitter. Facebook is about personal connections and keeping up with one's friends, family, and such. Where business pages on Facebook are concerned, the functionality is rather similar to a website, and everyone on the web knows what a website does. A Facebook business page holds the business's vital information, and even has pages, as a website does, for drilling down into greater detail. Further, many companies even have a Facebook store. Web commerce is done there, just as it can be done on a website.
Pinterest and Instagram vs. Twitter
Other social media are likewise rather obvious in their function. Pinterest is a sort of scrapbooking site. Pinterest does much more, of course, but we can all see the usefulness of Pinterest at a glance. Instagram is about sharing cell phone photos — that, too, is plain, and also useful.
Twitter, on the other hand, is not equipped to provide these services — not as straightforwardly, anyway. Twitter is essentially a chat room. And like a chat room, Twitter is more "real time" and immediate than other social media. Twitter is more about breaking news than Facebook is. More than Pinterest, Instagram, Snapchat, LinkedIn, and Google Plus are, as well.
Twitter is also about conversations. Rapid-fire communications. It is very news- and trend-driven. Twitter is a platform that people turn to when news is breaking and they want to see what the reactions to it are, in real time.
Twitter's Noisy Rep
It's often said that Twitter is "noisy," and by "noisy" someone means that it can be a firehose of content. Nothing is thinned out or excluded. Every tweet goes into a feed, and every follower of that tweep (individuals with accounts on Twitter are called "tweeps") receives that message. That has pluses and minuses. The good part, obviously, is that Twitter does not have the constriction of reach that we must contend with on Facebook and other channels. The bad part is, of course, the chaos and noise, and that fact that messages can be missed by followers in the torrent of content.

There are ways to reduce that chaos and noise. We have more to say more about that in the future, but for now, we are still analyzing Twitter's differences.
Facebook vs. Twitter (once more)
We found this question posed on Quora: "If a business could choose only one, which network should they choose (Facebook or Twitter)?" A representative of Zoho.com offered this answer:
"It depends on these considerations: (1) On which network does most of your target audience hang out? (2.) What is the primary objective for your social media presence? If you want to create and share content and get more reach for it, then Twitter is definitely the better network since its format lets content get shared/spread more easily. (Emphasis ours.) If you want to showcase your products online and enable people to place orders from your page when they see them, then Facebook is the network to choose because the format makes it easy for your audience to view your products for a longer period of time. (3) How much time can you invest? While both networks will require you to put in time and effort, Twitter is more real-time in nature than Facebook. So if you're going to actively engage your audience on either network, trying to do it on Twitter could take more time (although it may be worth the extra time, in most cases)."
Perfect for Mobile
Twitter is well suited for mobile users. Its 140-character limit for messaging makes it easy to operate in one's palm, on the fly.

Twitter is efficient. Because it is so "noisy," it is also very forgiving — and that forgiveness makes it the perfect platform for repeating and re-using one's content. Twitter followings are very tolerant of message-repeating. That's largely because Twitter's firehose feed means that most tweets don't get seen by most followers on the first pass, anyway. So transmitting a tweet hours later, or days later, is commonplace on the medium and the Twitterverse is generally fine with it. That means you can get extra mileage out of your content creation. If you're using Twitter for link-building, that means you'll get more links built with less time and money.
Growth Hacking and Twitter
Twitter is also a productive place for growth hacking, and given that many companies like to use Twitter to build followings and to move those followings over to Facebook or LinkedIn or other more "aggressive" sites, growth hacking on Twitter can be a very worthwhile proposition.

As author and digital marketing authority Gary Vaynerchuk said in his book, Jab, Jab, Jab, Right Hook, "Twitter is a marketer's dream come true because it allows you to initiate a relationship with your customer." That's a good way of thinking about Twitter. It's an easier, breezier environment for making personal connections, because of that "chat room" feeling. And savvy marketers will then want to cultivate connections by coaxing them over to other social media or to the company's website.
Twitter Versatility
Moreover, Twitter is a social platform uniquely positioned for customer service, direct influencer-outreach, content distribution, and social listening. For insights on all four, see this source.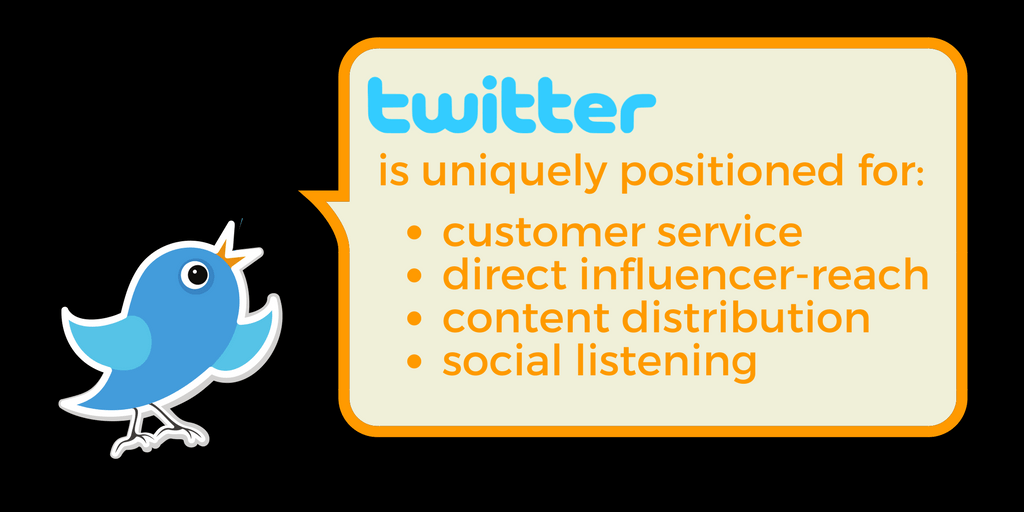 Now that we've covered the main aspects of the "Twitter Difference," we can hit some high points of how to make the most of your business's Twitter presence. For that, stay tuned for our next deep-dive into Twitter. And be sure to follow us on Twitter for timely tips and links to more in-depth content, not just on Twitter practices but on web marketing and social media—in fact, on all digital marketing efforts in general. Happy tweeting!
For more on Twitter for business, see our article on Twitter Do's and Don'ts.