Some families provide each other with a holiday wish list, but for those that don't, or for that difficult-to-buy for person, you may be able to use Pinterest as your holiday gift guide.
Brilliant, right?
Of course right. Let me show you how to use someone's Pinterest boards as your holiday gift guide this season! It's part detective work and part putting those social media stalking skills to use.
Pinterest is a limitless vision board for pinners. It's where they collect all sorts of inspirational goodies, including their unofficial wish list. Or, in my case, I pin to my Wishlist board and would be happy to receive any of those items as a gift! Even if your pinner doesn't lay it out for you, I've got some tips for sleuthing around so you can gift the people you love with something they definitely want!
How to Use Pinterest as your Holiday Gift Guide
1) Join Pinterest and follow your people, if you haven't already.
It's possible to view some things on Pinterest without joining, but it will take extra work and honestly, is a little bit of a pain in the back pocket. Joining is easy and will make this a lot simpler for you. Plus, you'll probably find yourself wanting to pin some ideas of your own!
You can also view a person's boards without following him/her, but it takes extra work. Go ahead and follow them! A benefit from following that person is that you will see some of their most recent pins on your home page.
For the Pinterest newbies, let me explain. When you are logged into Pinterest either on a computer or in the app on a mobile device (and I highly recommend the latter, at minimum), your homepage displays a combination of:
Your recently pinned pins.
Suggested pins from Pinterest based on your interests.
Pins that people you follow are pinning.
So, if you have followed friends/family, and if they are pinning, you will see some of these. If you want a holiday gift guide for someone, then follow them so you can see what they're into right now.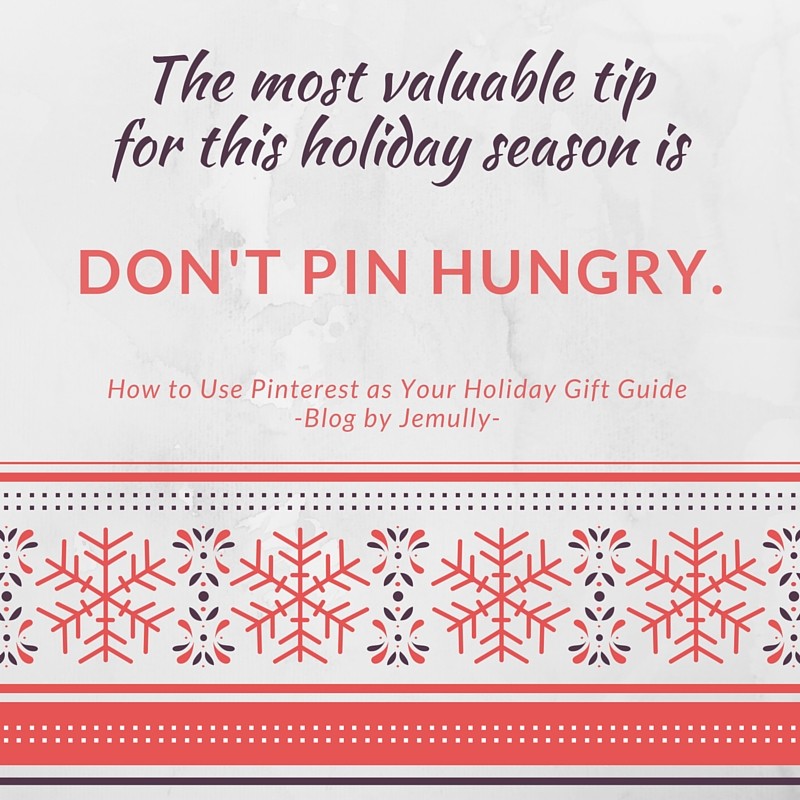 2) Don't pin hungry.
This tip is a pinning basic, but still. During the holidays, especially, people can't resist posting a bazillion recipes for pies, cookies, and crazysweet concoctions that will blow your mind and challenge your willpower. Before you know it, you're calling in a Favor for fresh-baked chocolate chips from your local bakery (Psst, hi McKay's). You can try not to see the food pins, but it's nearly impossible to avoid them completely.
DON'T. PIN. HUNGRY. You've been warned.
That said, you can always bake (or buy) a sweet treat, if that's what your peeps are into! A special food or cocktail could be just the thing to take your next hang out or date to the next level.
3) Buyable Pins
Even if you're not a Pinterest newbie, have you checked out the new feature, buyable pins? They rolled out at the end of this summer and you can bet your booties that the amount of buyable pins will continue to increase. Here are a few tips:
Buyable pins are only available on iOS and Android, for now.
Blue pin = buyable pin.
Yes, you can buy without leaving the Pinterest App.
If your person has pinned a blue pin, well, it doesn't get easier than that. Buy the gift you know they want!
You can often purchase items that are pinned even if they aren't a buyable pin. You have to click through and hope the pin takes you to the original website. For instance, if you click on the image of a handbag, hopefully the link will direct you straight to Macy's where you can buy that bag, or one that is similar. Unfortunately, spammers pose as all sorts of merchandise and the links can direct you to a weight loss scam.
If clicking on the pin doesn't lead you to the website, then look at the info written on the pin to see if it says the brand or store name of the item. If not, move on and find something else. You can also look in the buyable pins under whichever category and find an item similar to one your guy/gal pinned.
 
4) Gather your holiday gift guide intel 007 style.
Keep track of gift ideas by pinning to your own board. But do be sneaky.
Create a board.
Call it "Gift Ideas for Caitlyn."
Before you click Create, select Secret.
Now, only you can see your board. Those pins won't show up on your followers' homepages and even if someone looks at your boards, your secret boards remain hidden. Create a board for every person you're buying gifts for this season! (Tip: when looking at your boards Pinterest page, your hidden board(s) will be at the bottom of the page, separate from your other boards.)
And if you have the app on your phone (why wouldn't you?), you can access it anywhere! For instance, you're in Barnes & Noble and you can't remember which books were listed on their "10 Books to Read Before I Die" pin. Whip out your phone and bam.

5) What if my difficult-to-buy-for person doesn't use Pinterest or has exclusively pinned cardio workouts?
If your person doesn't use Pinterest, then check out the the handy Gift category. It's chock full of gift ideas, and you never know, some image may spark your own brilliant gift idea. Remember to pin any possible ideas to your own <secret> Holiday Gift Guide for Mustang Sally board.
Also, if your person pins but doesn't offer you much in the way of obvious gift ideas (i.e., a buyable pin for over-the-knee boots), then, like Phoebe said, dig a little deeper. If she's pinned multiple outfits from Anthropologie, then get her a gift card. If he dedicated an entire board to nautical artwork, buy him a painting. Chances are she/he has left a few clues as to interests and wish lists.
And if they truly have only pinned workout ideas–and if they are really into exercise or a sport–consider a gift card to Lululemon for some new workout digs, a gym membership (tread lightly here, folks), or maybe a voucher for some kind of physical sport or activity in their town? Stand-up paddle boarding, kayaking, or rock climbing for a few examples. You get the idea–anything related to what they are pinning can be a gift idea, also taking into account your personal knowledge of them.
Not all of us are gifted in the art of giving, eh? Whether you're looking for a gift for a co-worker, a new friend, or your spouse or parent, be the resourceful sleuth I know you are and hit up Pinterest to buy THE BEST GIFT, EVER!
While you're at it, better go ahead and create your own <not secret> Wish List board. Chances are, we are all that person to someone; so make their detective work a little easier this holiday season, won't you? And then share this article, so they know just where to look. Naturally. <wink>