Before we enter into any discussion of LinkedIn job posting, we should step back and assess the jobs situation in general.
The U.S. job market has been in the news frequently in the last couple of years. Unfortunately, a good portion of the news has not been good. If you have a position to fill in your business, knowing the best place to make a job posting puts you ahead of the pack.
For example, here are a few recent headlines:
LinkedIn is Not the Only Option
As a business owner or HR manager with a job opening, you have several options for getting the word out. As a first place where you might look, consider one of the digital platforms for job seekers that have been around for more than a dozen years. Zip Recruiter and Indeed both started in the early 2000s. Another site you may not be aware of caters to a specific subgroup of job seekers – Christians. A digital platform called Christian Jobs (established in 1999) offers opportunities for Christian employment at ministry organizations, nonprofits, and businesses.
Next, you will find that many people reach out to potential hires using social media. For example, Facebook allows you to post a job on their site. Facebook walks you through the process of creating a job post on your Business Page. Their help section is inside the Meta Help Center.
But It Might Be Your Best
Today, we will look at how to create and use a LinkedIn Job Posting. If you do consider using social media, LinkedIn, because it is a business-related platform, is likely a better choice than Facebook for your job listing. Why? Because of the nature of each of the two platforms. When people login to Facebook, more often than not, their purpose is to keep up with their friends and see pictures of their kids and grandkids. Not so with a LinkedIn job posting. Users on LinkedIn have a different purpose. LinkedIn job posting employs a platform specifically designed to make business connections. LinkedIn holds the position of the superior option for promoting your company and its career opportunities.
OPTION 1 – Create a Free LinkedIn Job Posting
The first option you have for creating a job posting on LinkedIn is the free option. Creating a post for a job opening on LinkedIn affords your company the opportunity to reach scores of qualified candidates within your network.
On your LinkedIn Company Page you will see a button under the window to "start a new post." The buttons says, "Post a free job."
After you click the button, a simple form will open for you to fill out.
Information you will need to complete a Free LinkedIn Job Posting
If you are like me, you want to have all the information handy for your LinkedIn job posting before you start to fill out the form. So, to help you with that process, we have listed all the information that LinkedIn requests on the free job post form. Then, once you have determined what you want to say on the LinkedIn job posting, it is a breeze to pop the information into the form and publish it.
Job Title – What is the position you are hiring for?
Workplace type

On-site (Employees come to work in-person.)
Hybrid (Employees work on-site and off-site.)
Remove (Employees work off-site.)

Job Location – This job will be shown to job seekers searching for on-site jobs in this location.
Job Type

Full-time
Part-time
Contract
Temporary
Other
Volunteer
Internship
Description – Add the skills and requirements your looking for.
Important Info About the Limitations of a Free Job Posting on Linked
Our experience with free LinkedIn job postings has been that LinkedIn quickly delivers responses to job opening. It is possible that within minutes you will receive applications from interested parties.
Many of the twenty applicants we received had not read the fine details of the job requirements and may have applied based on the title of the open job position. Therefore, of the twenty applicants we received, only a small number were even a fit for the requirements.
However, be aware that LinkedIn will pause your free job posting after you receive "a certain number of applicants". For us, we found that 20 applicantions was the limit.
Then, LinkedIn forces you to go with the paid option of the job posting. (We think that is kind of sneaky of them to slip that limitation in.) So, be aware and be prepared to pay to get the desired results. If you don't move to the promoted job listing right away, they will follow up with email notifications that urge you to promote your job on LinkedIn.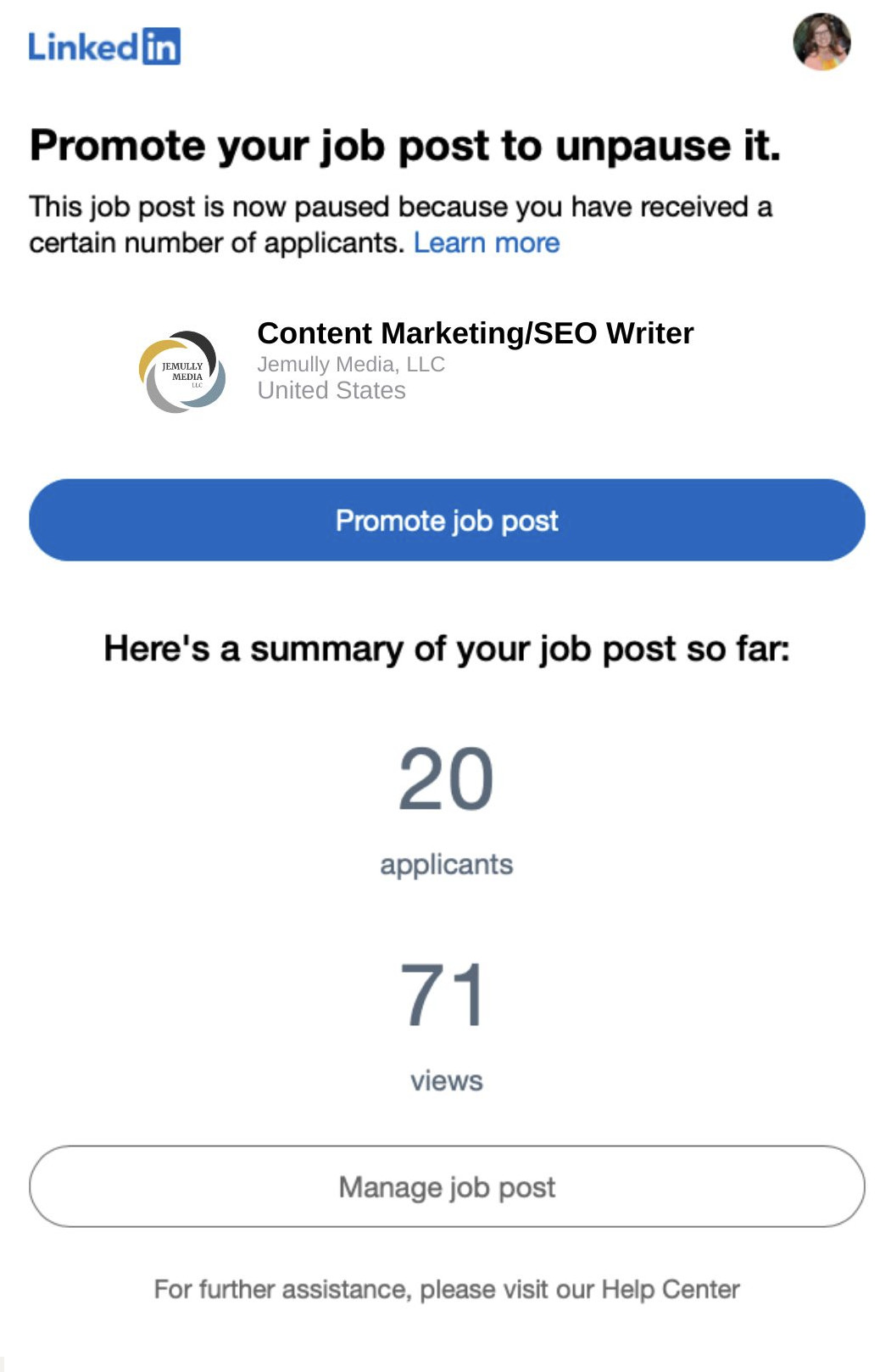 OPTION 2 – Create a Paid LinkedIn Job Posting Ad from your Profile page
If you would like to get your job listing out to more people than those in your LinkedIn network, you may opt for the paid version over the free version of the job posting.  Paid job postings not only reach beyond your network, they accelerate the process and deliver results to you more quickly.
The following instructions guide you through the process for a paid job posting.
After you login to LinkedIn, look at the top navigation bar and click on the "Jobs" link.
You will be taken to the Jobs portion of LinkedIn. On this Jobs page, click the "Post a Free Job" on the left sidebar navigation. (I know, it doesn't make sense that you click "Post a Free Job" to get to the option for a paid [promoted] job listing. Nonetheless, this is the process.)
This sidebar link will take you to a new area of LinkedIn called "Talent Solutions." Here you will be asked to login with your LinkedIn username and password.
After you log into the LinkedIn Talent Solutions, fill out the form to create a new job. Note that on this form, you can ask some questions to help you screen the applicants.
LinkedIn shows you an estimate of how many applicants you may receive. They estimate 3 applicants per month for a free listing. In contrast, they suggest you may receive 24 applicants per month if you invest $15 per day to promote the job listing.
A Closer Look at the LinkedIn Job Posting Form
First you will fill out the basic information about the Job.
Next, describe the role and outline the skills you require for the position.
Continuing on, define how you want to receive applications. The two options: receive notifications via email or send the applicants to your website to learn more about the company and the position.
If you choose to receive the notifications via email, the next step is to define questions that will further screen applicants. There are pre-written screening questions touching upon such considerations as certifications, background checks, and work experience. Additionally, you may write a "custom question."
Information you will need to complete the LinkedIn Job Posting form, plus some optional information you may choose to request from applicants:
Job Title – What is the position you are hiring for?
Workplace type

On-site (Employees come to work in-person.)
Hybrid (Employees work on-site and off-site.)
Remove (Employees work off-site.)

Job Location – This job will be show to job seekers searching for on-site jobs in this location.
Job Type

Full-time
Part-time
Contract
Temporary
Other
Volunteer
Internship
Description – Add the skills and requirements your looking for.

How do you want to receive applicants?

By email (provide the email address)
An external website (provide the URL)

Screening Questions – LinkedIn recommends the use of 3 or more screening questions with the  option to indicate if the questions reflect a "must-have qualification" on not. Here is a list of screening questions LinkedIn provides:

Experience with the skills listed in the job description
Background Check
Certifications
Driver's License
Drug Test
Education
GPA
Industry Experience
Language
Location
Onsite Work
Remote Work
Urgent Hiring Need
Visa Status
Work Authorization
Work Experience
Custom Question
Lastly, if you still need more detailed instructions, we recommend that you go to 
LinkedIn Help for posting a paid job ad.
BONUS SECTION – THE "#HIRING" PHOTO FRAME FOR YOUR PERSONAL PROFILE.
Here's a short video from LinkedIn that describes how the "#hiring" photo frame works.
The #Hiring feature stands out among other profile pictures to announce that you're hiring on LinkedIn. It is a great way to get the attention of candidates within your LinkedIn network. Quickly and easily let folks know that you're #Hiring. LinkedIn says this special free feature will help you with:
Creating new job posts from your member profile or the LinkedIn feed share box. When you add a job post (new or existing) to your LinkedIn profile, we'll notify your network that you're hiring so they can also share the job with their own networks.
Adding job posts to the top of your LinkedIn profile.
Notifying your network through the #Hiring hashtag when you share an update.
Using the #Hiring photo frame on your LinkedIn profile photo.
Featuring your LinkedIn profile on the job post's Meet the team section.
Inviting your coworkers to share the job and add the #Hiring photo frame to their LinkedIn profile photo.