Abilene, Texas-based Jemully Media has been named as the preferred marketing partner of Dallas-based Perspectivity International, marking the latest growth step for Jemully, which has booked considerable new business in the third quarter 2017.
Jemully is already supplying digital marketing services for selected clients of Perspectivity, and has added Perspectivity itself to Jemully's roster of clients. Jemully has added five new clients in the past two months.
The fast-rising digital marketing agency provides content marketing and social media management, along with an array of other marketing services, for businesses seeking to compete in the digital arena.
Kit Mullins, founder and team leader at Jemully Media, said that her firm is excited to be working for and with Perspectivity International, and to be extending services to the high profile clients that Perspectivity serves.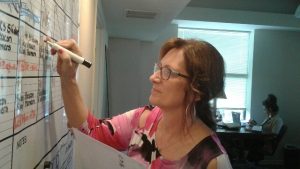 "We are doing work for Perspectivity itself—such as website work and an ambitious schedule of social media messaging—and beyond that, we are doing some cutting edge work for the clients of Perspectivity," Mullins said. "They've kept us extremely busy in the scant weeks we've been associated with them. We like where we see this relationship going—there is a synergy here that is good for Jemully, and we think it is good for Perspectivity and Perspectivity's clients, too. Overall, it's a great fit."
Perspectivity, for its own part, likes the arrangement as well.
"This connection makes sense in so many says," said Perspectivity founder Brian Williams, who, with co-founder Tasha Williams, screened a range of agencies to find a company that could mesh best with his own firm and help take Perspectivity's unique approach to new heights.
"We're already collaborating to implement strategic initiatives that are going to take our clients further than we've ever been able to take them before," Williams said. "The Jemully team includes social media marketing specialists, web developers, people with many years' experience in inbound marketing, and especially a strong team of writers. Their content marketing staff is top notch. They've been in business for about as long as we have—that is, about 6 years—and like us they've been successful and have built a nice portfolio of clients. We're excited to involve Jemully Media in projects involving some of our clients and get the benefit of Jemully's creativity, energy, and digital marketing flair."
A recent article by Gateway News Source described this partnering of agencies as indicative of a trend that is gaining traction in the marketing world. Gateway's coverage included this observation:
"Whether it's called 'agency partnering,' 'inter-agency collaboration,' or 'horizontality,' the trend of two or more agencies teaming up to serve one client (or even multiple clients) is a phenomenon that continues to gain traction in marketing's fast-changing landscape."
Gateway News also remarked on the relative strengths of each of the organizations.
"Perspectivity International has a strong emphasis on sales messaging. That is their stock-in-trade. Jemully Media, though they are somewhat more of a traditional digital agency, in that they handle a large amount of website development and social media management for their clientele, have a pronounced emphasis on content marketing. As the leaders at each of the respective businesses have indicated, Perspectivity would prefer to keep its emphasis on sales messaging and involve Jemully for content marketing, website, and social media work, and Jemully is pleased to lend its own expertise to Perspectivity clients and leave the sales messaging and branding to Perspectivity, at least where Perspectivity's clients are involved."
Mullins said that the winds have shifted in digital marketing and that these changes are part of the reason why her agency has onboarded additional clients this year.
"The practices that we specialize in—these are the practices that business are recognizing as their greatest needs," Mullins said. "The trends of today have aligned well with the directions we were taking already in our agency. For instance, we have always been strong in content marketing. Now the world is hearing that content marketing plays a bigger part in SEO than most had previously recognized. Content essentially is SEO. It's the driving force there. Another trend is that businesses are seeing that they have to pay-to-play, where Facebook and several other leading social media networks are concerned. We were already confronting that reality, and leveraging it, for our clients."
Mullins has also noticed the trend of companies beginning to accept the change in their own business environments.
"Just two to three years ago, businesses in our market area were saying that they understood the importance of investing in digital marketing, and they were going to far as to say that is essential, even imperative, in the business world. But their actions were not always the same as their words. They would say it is important, but their own actions showed a reluctance to budget adequately for the digital marketplace.
"Today we are seeing them come on board much more strongly, and getting their actions more in line with their words. Not to be active in the digital marketplace—that is essentially a death sentence for a business.
"And that realization has been good for our company, obviously," Mullins added. "We are in the process of hiring right now, and we have more proposals out in the hands of prospects than we've ever had before. Every week seems to bring more inquiries than the one before. It's an exciting time."