The website OklahomaMinerals.com has an interesting video series on "Famous Oil Men." These are very brief—the one we're linking to is less than three minutes long—and they are well done. This installment is on Harry Sinclair, founder of Sinclair Oil. Find it here.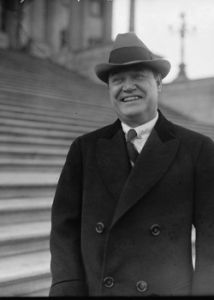 As the website states, Harry Ford Sinclair (born July 6, 1876, in Benwood, W.Va. – died November 10, 1956, in Pasadena, Calif.) was an American industrialist and founder of Sinclair Oil. He was implicated in the 1920s Teapot Dome Scandal, and served six months in prison for jury tampering. Afterwards he returned to his former life and enjoyed its prosperity until his death.
The video goes into greater detail, of course. For the remainder of this post, we share with you some passages from Wikipedia.com's webpage on Harry Sinclair.
In 1910, four businessmen: Eugene Frank Blaise, Charles J. Wrightsman, William Connelly, and Harry F. Sinclair bought the failed Farmers National Bank in Tulsa. They created a new entity, Exchange National Bank, and named Sinclair as President. This bank, later renamed as the National Bank of Tulsa, was a forerunner of the present Bank of Oklahoma.
On May 1, 1916, the highly successful Sinclair formed Sinclair Oil from the assets of 11 small petroleum companies. In the same year, he bought the Cudahy Refining Company of Chicago, owner of several oil pipelines and refineries. By the end of the 1920s, Sinclair Oil refineries had a production capacity of 80,000 barrels a day and had built almost 900 miles of oil pipelines. The company was ranked as the seventh largest oil company in the United States and the largest in the Midwest. Harry Sinclair's business acumen made him an important member of the local business community and he helped organize the State Bank of Commerce, which later was acquired by the First National Bank of Independence, of which Sinclair served on the board of directors.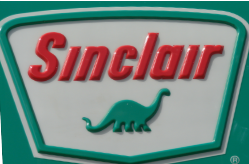 His brother, Earle W. Sinclair, served as president of Sinclair Refining Company until his death at age 70 of heart disease on September 21, 1944.
Harry Sinclair's high-profile image as a reputable American business leader and sportsman came into question in April 1922 when the Wall Street Journal reported that United States Secretary of the Interior Albert B. Fall had granted an oil lease to Sinclair Oil without competitive bidding. The oil field lease was for government land in Wyoming that had been created as an emergency reserve for the United States Navy. What became known as the Teapot Dome scandal ultimately led to the United States Senate establishing a Committee on Public Lands and Surveys to conduct hearings into the circumstances surrounding the government oil lease. The result was a finding of fraud and corruption that led to a number of civil lawsuits and criminal charges against Harry Sinclair and others. In 1927 the United States Supreme Court declared the Sinclair oil lease had been corruptly obtained and ordered it canceled.
Two weeks after Harry Sinclair's trial began in October 1927, it abruptly ended when the judge declared a mistrial following evidence presented by the government prosecutors showing that Sinclair had hired a detective agency to shadow each member of the jury. Sinclair was charged with contempt of court, the case eventually winding up before the United States Supreme Court who, on June 3, 1929, upheld Sinclair's conviction. He was fined and sentenced to six and a half months in prison, which he served as prisoner #10,520, at the District of Columbia jail.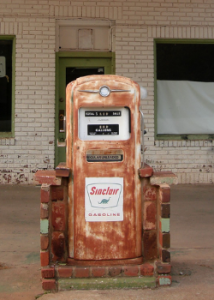 While in prison, Sinclair was allowed to work as both pharmacist and physician's assistant, and it was while working within these capacities that he was allowed to be taken by car to attend to the prisoners assigned to work details at the city wharfs. Public attention and perceived favoritism prompted George S. Wilson, District Director of Public Welfare, to order an end to these rides, but rumors of Sinclair's preferential treatment continued.
After serving his short prison term Sinclair returned to his successful business. He had owned a luxurious French Renaissance-style château on the southeast corner of Fifth Avenue and 79th Street in New York City. His reputation destroyed there, Sinclair sold the property in 1930. Located in the same area as several major museums, it was eventually acquired by the Ukrainian Institute of America and is now open to the public.
Harry Ford Sinclair retired as president of Sinclair Oil and Gas Company in January 1949. He died a wealthy man in Pasadena, Calif., in 1956 and was interred in the Roman Catholic Calvary Cemetery, East Los Angeles.