Pillar-based content marketing strategy follows a systematic approach to creating and delivering content designed to achieve specific marketing goals. This strategy employs the concept of creating a "pillar" or a central theme or topic. That pillar becomes the foundation for all the content that a business creates and distributes. Content creators take the pillar content and break it down into subtopics. Then, the subtopics, once developed, complete the desired result of creating a hierarchy of content. This hierarchy serves to educate prospects, engage them, and eventually convert them into customers.
First, Some Background
We can dive into some specific ways you can employ a pillar-based content marketing strategy. But first we should review the idea of content marketing in general. We'll benefit from an understanding of the overall purpose and goals of content marketing.
Content marketing takes a strategic marketing approach focused on creating and sharing valuable, relevant, and consistent content. Done right, this will attract and retain a clearly defined audience.  Ultimately, it drives profitable customer action. Content marketing seeks to educate, inform, entertain, and nurture an audience, rather than solely promote a product or service.
Content marketing builds a strong relationship by providing your audience with media that addresses their needs, interests, and pain points. Further, it establishes the marketer or brand as a trusted expert in their field. This comes to fruition through employment of a variety of content formats. These include blog posts, videos, social media posts, infographics, e-books, and more.
Benefits of Pillar-Based Content
Now down to some specifics. A pillar-based content strategy benefits your site through the diversity of content created around a pillar topic. When you link internally between these pieces, search engines begin to recognize your site for its authority and they improve your page rank accordingly. The primary topic becomes what we call the pillar page. In the example below, the "Business Law" page acts as the pillar, or broad topic content page. The supporting, or, as frequently termed, "cluster content," is the more narrow-focused content under the subject of Business Law. As Neil Patel, digital marketing guru, remarks, "Don't be confused by the term "cluster content." It's basically just content that focuses on narrow topics related to the pillar page."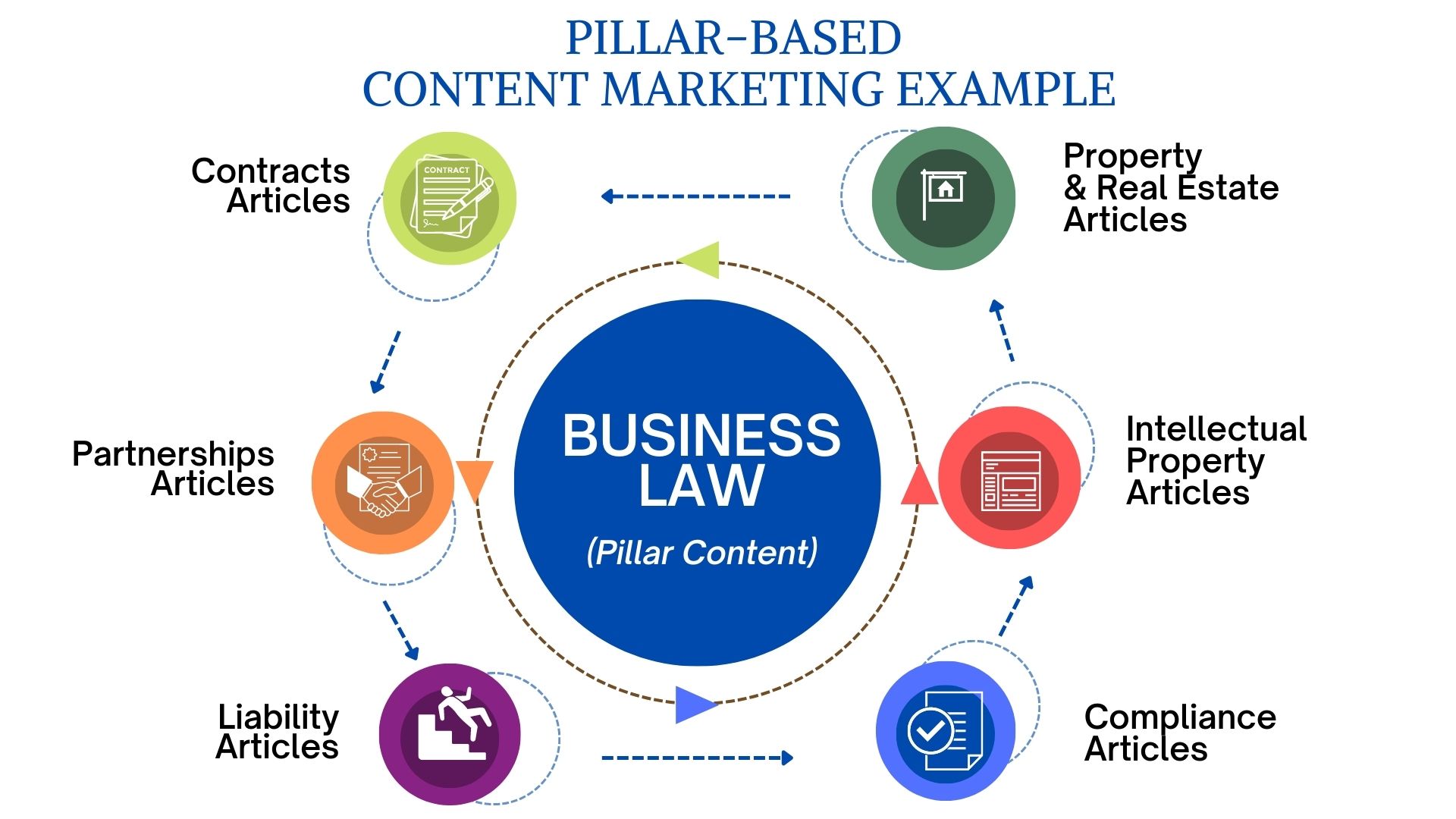 Here are 7 ways businesses can implement a pillar-based content marketing strategy:
Identifying the pillar topic: The first step in creating a pillar-based content marketing strategy calls for identifying the central topic or theme. This theme serves as the foundation for all the content. This topic should closely relate to the products or services that the business offers and should hold interest among the target audience.
Creating subtopics: Once the pillar topic has been identified, decide on subtopics that can create a hierarchy of content. These subtopics ought to closely relate to the pillar topic and provide more in-depth information on specific aspects of the central theme.
Developing a content calendar: A content calendar will ensure that the content gets created and distributed on a consistent basis. The content calendar should include the type of content to create, the target audience, the delivery channel, and the due date for each piece of content.
Creating pillar content: The pillar content functions as the cornerstone of the pillar-based content marketing strategy. This content provides a comprehensive overview of the central topic and will educate and engage the target audience. Examples of pillar content include eBooks, whitepapers, webinars, and infographics.
Creating cluster content: Cluster content consists of a series of related pieces of content calculated to provide more in-depth information on a specific aspect of the central topic. Examples of cluster content include blog posts, videos, and podcasts.
Creating cornerstone content: Cornerstone content consists of articles of content that serves as a resource for the target audience. This content should provide valuable information on the central topic and should be designed to inspire trust and establish the business as an authority in the industry. Examples of cornerstone content include case studies, research reports, reference material, and tutorials.
Promoting the content: The final step in the pillar-based content marketing strategy is to promote the content to the target audience. This can be done through a variety of channels including email marketing, social media, and paid advertising.
Pillar-based Content Builds Authority
To sum it up, a pillar-based content marketing strategy serves as a powerful tool for businesses looking to build trust and establish themselves as an authority in their industry. By creating a central theme or topic and breaking it down into a hierarchy of content, businesses create a consistent and effective content marketing strategy that achieves specific marketing goals.