Facebook updates its rhymes and reasons fairly often. Here's what's been happening so far in 2015:
A major Facebook News Feed update as to which ad content is allowed
Launch of the Facebook for Work app
Improved Facebook app for the Android platform
New ways to track the effectiveness of ads
Several updates to FB business pages.
Let's take a look at what's changed and some pro tips to help your business succeed in these new surroundings.
The News Feed
Towards the end of 2014, Facebook announced certain changes to how Promotional Pages would be represented in the News Feed. Facebook said the people had spoken, and the people wanted to see less promotional content in their News Feeds.
While it certainly makes sense that Facebook users would want to see less ad content, this sort of announcement may come to the chagrin of business owners. Advertising and promoting your business is already a tightrope act of finding the proper balance between the engaging and the overtly promotional. You want to entertain your audience, but you must still convey a message.
The long-term effects of this change may still be revealing themselves, but you will need to consider a few things before you post from your Facebook business page.
Pro Tip: Avoid sales lingo entirely (when possible).
It will benefit your posting reach if you only include the details that benefit the consumers directly. For instance, if you are running a promotion, let the copy serve to inform consumers that something they may want is available and currently on sale. Leave out the explicit request for the consumer to purchase it from you or the bit about how they they better hurry because the sale is only good through the end of the week.
An otherwise friendly and innocuous post about an upcoming TV program might get docked by Facebook due to a line tacked on at the very end insisting that consumers also buy the show on DVD.
It seems to be the language of sales that is being targeted here, not the company's desire to stay in business. People do still want to know about sales from their favorite companies…. That's why they liked your Page in the first place.
Facebook at Work
Facebook At Work (FB@Work) is a newly launched app for iOS and Android aimed at corporations of 100 or more employees. FB@Work is designed to replicate the full Facebook experience within the parameters of a single company… a Facebook microcosm. This corporate platform puts Facebook in competition with products from other companies such as Microsoft and LinkedIn.
Android App Improvements
Facebook has improved the performance of its Android app. Changes include:
65% smaller download size
50% faster start time
Liking Pages, pictures and posts, as well as removing tags, can now be done without Internet access.
Calls to Action

All Facebook Business Pages are now equipped with a new call-to-action feature. This button can be tailored to your business and includes options such as "Sign Up" and "Shop Now." This feature is tracked by your Facebook analytics, allowing you to chart its effectiveness.
Pro Tip: Use this feature to promote your company's most central goal.
New Analytics
Last month, Facebook announced a new way of evaluating ad performance. They claim the new method is more accurate than "click-through-rate" which has long been the standard. If this Facebook update can paint a clearer picture of where all that ad money is going, that may be just the encouragement some businesses need to take their first plunge into Facebook advertising.
Pro Tip: Think hard about setting an official Facebook ad budget. Posting content is more competitive and strategic than ever, and your advertising deserves the same kind of thought and attention.
Usability Improvements
Additionally, Facebook has improved the Business Page experience by altering the navigation bar at the top. The buttons now read: Page, Messages, Notifications, Insights, and Posts. This configuration makes Messages, Notifications and Posts more readily accessible (they used to be grouped together under "Activity" in the prior configuration).
Facebook Business Pages now include a small sidebar on the right hand side highlighting your recent interactions. Handy!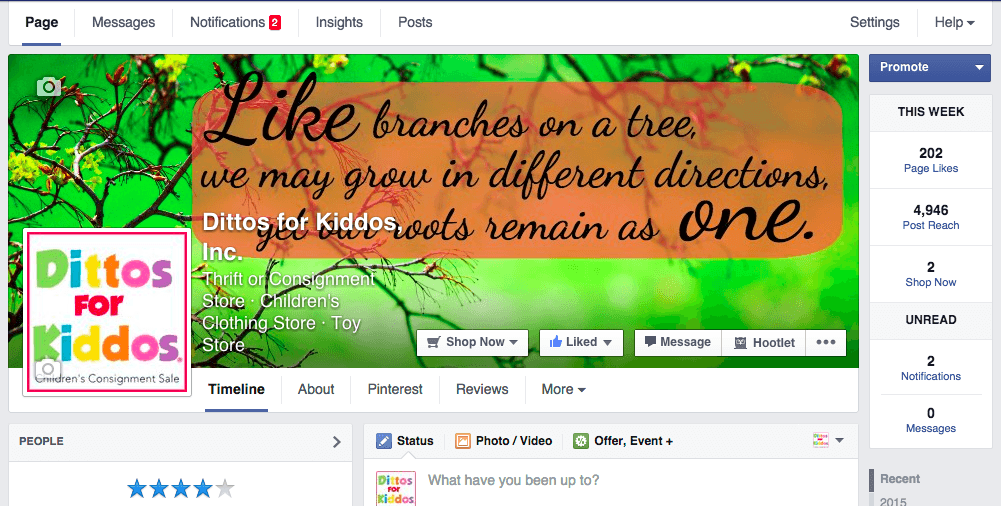 What pros or cons have you noticed so far with these Facebook updates?