We've compiled a list of favorite Christmas stories and holiday quotes to help welcome in that holiday spirit. Whether you spent this week frantically shopping, cooking, or wrapping presents, I hope you take time to read or watch at least one seasonal tale.
Christmas stories, like all stories, have evolved with our times, so it's no wonder that most of the favorite Christmas stories are movies. We include a couple of old school, print on paper stories, too. Dig in.
Favorite Christmas Stories & Some of the Best Holiday Quotes!
A Charlie Brown Christmas
Because who doesn't love the peanuts gang?!?" –Riley Nipper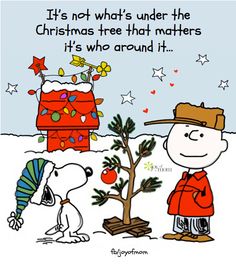 Year after year we can't get enough of Charlie, Linus, Lucy, Schroeder, Sally, and Snoopy. Why? It's simple and timeless. It's funny and forthright like children are. And c'mon, it's got a great soundtrack!
The Muppet Christmas Carol
"Muppets and Michael Caine make everything tolerable. -Beau Green

If the Muppet Christmas Carol is one of your favorite Christmas stories, then you might find yourself ba-humbugging through the season. You probably spread some Christmas cheer, but in a low-key, disguised way. Plus, Muppet humor can tickle just about all of us.
A Christmas Story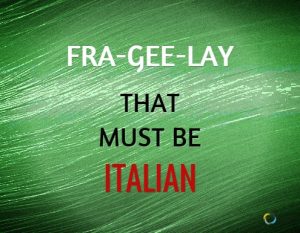 It's a classic. And the yearly marathon has nearly killed it. But it's your favorite and you can't help but quote it all year long. It's okay. We all still love you.
Sometimes, it's the memories connected to Christmas stories or really any story, that lets it grow more and more special as we move along in life and realize that some moments were perfect, and we were privileged enough to live them.
 I watch it every year with my grandparents on Christmas Eve. I love hearing the excitement in their voices when I call to say I'm heading to town! The memories of hot chocolate (with a BUNCH of marshmallows), big fuzzy socks, and watching A Christmas Story with Nannymoma and Papa with always be my favorite! –Bethany Morgan
It's a Wonderful Life & Miracle on 34th Street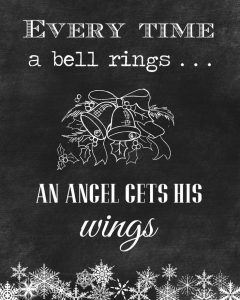 These two kind of go together. If you love one, you probably love the other, too.
 Many of our favorite Christmas stories show how sacrifice and joy have always had the power to change people. Think of Charles Dickens's Ebenezer Scrooge, of Doris Walker and her daughter Susan in Miracle on 34th Street, George Bailey in It's a Wonderful Life, or even Dr. Seuss's titular character the Grinch. The spirit of Christmas — of sacrifice, unselfishness, and joy — is filled with a beautiful power to create continued peace and good will in all men. –Bicky Tolar
White Christmas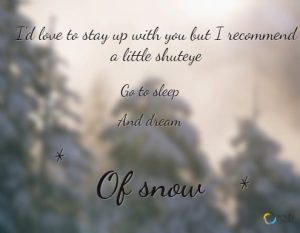 Are you a Betty or a Judy?
A crooner or a comic?
This classic musical has it all.
Singing, dancing, glamorous costumes — it's early Hollywood at its best.
For all the little girls who sang Sisters and twirled feather boas, and for all the old souls who never tire of Bing's soothing voice, we know you dream of a white Christmas — and we hope you get it!
I don't know if the best things happen while you dance or maybe they just happen in Vermont, but I do know that this movie is far superior to my cocker spaniel.
Elf
We all feel like a cotton-headed ninny muggins sometimes.
My favorite Christmas story is the one about Buddy the Elf leaving the North Pole, passing through the seven levels of the Candy Cane forest, through the sea of swirly twirly gumdrops and then walking through the Lincoln Tunnel in New York to find his father whom he had never met. He taught us all that the best way to spread Christmas cheer is singing loud for all to hear.
–Tony Burke
How can you not fall in love with Elf? Purity and innocence are humorous contradictions to our modern life, and nobody puts it all into perspective quite like Buddy.
The Real 12 Days of Christmas
My favorite Christmas story comes from "The Real 12 Days of Christmas." Most people think of the never-ending song we sing during this season, but there is so much more to it. When I was about 5, my grandparents brought the book to read before opening presents. The book took each day, each symbol, and explained the meaning behind it. It tells the story of those persecuted who came up with the song to teach little children the true importance of the Christmas story. Each day has great significance. For example, when singing about "three french hens,"  it really represents faith, hope and love. Another common misconception is that the 12 days lead up to Christmas. They actually refer to the 12 days after Christmas, between

December 25

and

January 6

, the Epiphany. I have always loved to look over the pages every year when the book come out of the attic.
–Corrie Baker
A Visit from St. Nicholas (The Night Before Christmas)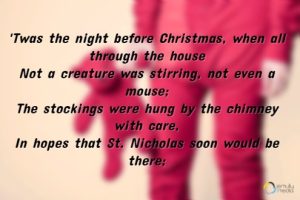 By Clement Clarke Moore
As a kid, this story stirred excitement within me until I thought I would burst! It added to the allure of Christmas Eve and the anticipation. Imagining Santa and struggling with believing that he really could shimmy down a chimney, only to be surprised by the signs that he had indeed traipsed into my house, and remembered us. What thrill!
It bewitched me then, and it bewitches me still–the language, the rhyme, and the perfectly executed rising action. If you want to get kids (at heart) excited about Christmas, read this. –-Tahj Mayes
How the Grinch Stole Christmas
And he puzzled three hours, till his puzzler was sore. Then the Grinch thought of something he hadn't before!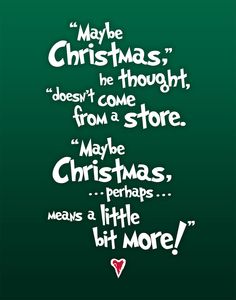 There is no doubting this Christmas story's place on the favorite list. It's creative language and catchy, sweet songs (if you catch the animated movie version), and the Grinch-a-round transformation has all the makings of the kind of story that children fall in love with and never grow too old for.
The heart of Christmas is being with your Whos,
that is what makes Christmas,
Christmas to yous!
Grab your eggnog or hot chocolate, a warm blanket and cuddle up to enjoy one of your favorite Christmas stories.
Happy Christmas to all, and to all a good night!