If menus weren't available online, I think my husband and I actually might have starved by now. Each night around 6:00 without fail, my husband and I inevitably ask the same question:
So, what's for supper?
We can't seem to agree on a place and eventually, one of us gets hangry.
Thankfully, since Facebook implemented its Menu tabs, which allows restaurants to directly display their menu on Facebook business pages, we can resolve our dinner dilemmas more quickly. We can easily scan restaurant menus to find dishes that sound good to both of us.
The addition of menu tabs on Facebook isn't just better for my evenings, it provides businesses a wider audience engagement that results in some serious ROI.
6 Reasons Your Menu Should be on Facebook
1) Convenience
The addition of a menu on Facebook adds convenience to their already excellent source for customer involvement. In the past, for a customer on Facebook to view your menu, they had to open a separate browser window or different application, altogether. And depending on wifi availability, loading times, and the mobile compatibility of your website, this takes too much time. With the menu already on your Facebook page, customers can view it by simply clicking on a tab next to your restaurant's 'photos' and 'likes'. The internet provides us access to endless threads of information and we expect to find what we look for quickly and simply. Providing your menu on Facebook is a must for the competitive business.
2) It's a mobile world, folks.
By January 2014, internet usage on mobile devices exceeded internet usage on PCs (Search Engine Watch).
And mobile usage has only increased since then. Most websites use PDFs for displaying menus and PDFs aren't always compatible with mobile devices. They might get halfway displayed in a severely muddled fashion or your mobile audience may not be able to view your menu at all. This can drastically hurt your business. More often than you realize, you are missing out on customers because they can't view your menu either without hassle or at all.
Read more about the Consequences for Ignoring Mobile Web Design in the wake of Mobilegeddon.
3) On-the-Go Decisions
Consider how many restaurant choices are made by people on the go.
74% of adult smartphone owners used their phones to get information based upon their current location.

41% used their phones to coordinate a meeting or a get-together
30% of them used their phones to choose a business to visit, such as a restaurant. (Mobile Technology Factsheet)
This means that 74% of mobile users are looking for information based on their geographical location, and many are using their mobile devices to coordinate meetings while specifically looking for restaurants.
So where does Facebook come into play? Of the "936 million daily active users" on Facebook, 798 million use Facebook daily as of March 2015 (Facebook Newsroom). So there's a good chance that between business meetings, friends gathering, and families looking for a place to eat, putting your menu on Facebook will pay off in customers walking through your door.
4) An image is worth a thousand … ?
Adding your menu on Facebook is the first step. It answers specific questions that consumers are asking. From general curiosity of what your restaurant serves to specific dietary questions, they want to know your menu before making plans.
Are there vegetarian/vegan/Paleo/gluten-free options?
When is happy hour?
What is on the kids menu?
Research indicates that we respond most to what's directly in front of us. For example, including a picture next to a food item has shown to increase sales by 30% (Mental Floss). Adding a few high-quality photos makes your menu a visual enticement for customers. A little food show-and-tell is one of the oldest tricks in the menu-book for a reason. People respond to what's directly before them. Check out this menu on Facebook for Hickory Street Cafe. Besides giving visual stimuli for hungry customers, their menu on Facebook is furthering their brand identity. You get a feel for the flavor of the cafe as well as the food they serve.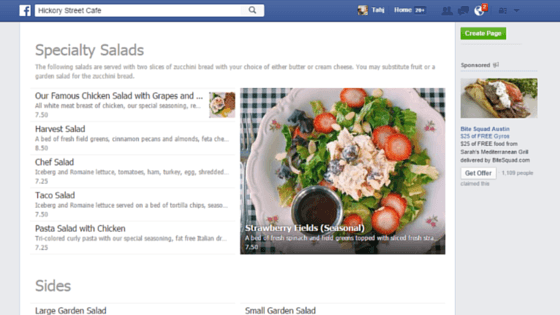 5) Exposure
Despite the popularity of other social media venues, USA Today reports that Facebook remains the most popular social media site in the entire United States. Facebook is a place where people go to simply hang out. Isn't this also a large reason why people choose to go out to eat? Displaying your menu on Facebook can merge these two hangouts together. Most of these users may not go near a restaurant's webpage, but 70% of them report that they visit Facebook at least once every single day (USA Today, Elizabeth Weise). People are on constant lookout for a new restaurant or dish to try. By being active on Facebook at all you should be increasing your exposure, but by providing your menu on Facebook, you broaden your exposure by revealing more about what you offer in a more convenient and accessible way for users to know you and share you with friends.
6) Great Expectations
Your menu is the foremost item that customers want to see when deciding what to eat and where to eat it. Adding your menu on Facebook allows diners to know exactly who you are and what they can expect from you.
Facebook's menu option also allows you to update your loyal customers with seasonal menu changes, specials, and daily deals. Pictures of your food or social media specials that pop up in their feed keeps your restaurant in their mind. They'll suggest you as a meeting place because they have to try the watermelon mojito you posted mid-July. They'll recommend you to friends visiting town because you've made it easy to do so. It's a perpetual cycle of customer engagement and appreciation which results in more customers and even more reward.
Your menu is the heart and story of your restaurant. It's what you are most proud of. The only question now is, "Why would you not put your menu on Facebook?" Put yourself in front of your customers and build your following from the menu up. Fredrico Fellini once said that "Life is a combination of magic and pasta." Maybe you don't make pasta, but use every opportunity to show off your magic!