Well, it's that time again, with year-in-review pieces and 2015 prediction pieces popping up in every corner of the Internet. Jemully Media is getting in on the action. Here is the first of a two-part preview of web design trends 2015.
In this article, we visit with Envato CEO Collis Ta'eed. Envato is a collection of sites providing everything from stock photography and video to the premium WordPress themes we use at Jemully. I was also able to steal a few minutes with our own CEO and Creative Director Kit Mullins about a few trends that will be of particular interest here at Jemully in 2015. Between Kit and Collis, here are some hot takes on what's in store for web design trends in 2015.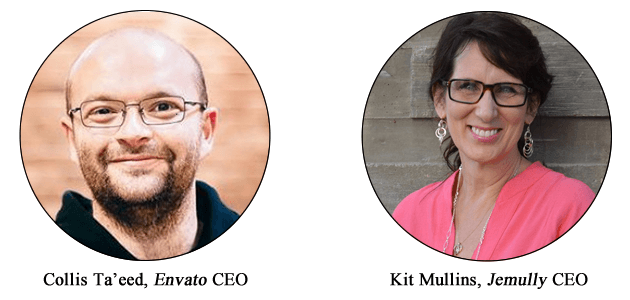 The comments of both participants, acquired separately, have been edited together.
Kit: We're going to see more subtle animations and micro-interactions to engage web users. Think full video backgrounds and animated charts. More ghost buttons please!
Collis: We may be moving towards an era of smarter design tools. Imagine templates that auto-adjust to content and tools that suggest effects and colour palettes as you're working. And of course, more tools aimed at non-designers that offer simple and affordable solutions to basic and repeatable design problems.
Kit: We're looking for anything that aids in storytelling. This may be more hand-drawn illustrations, better, more-diverse typography or any number of other innovations. Hand-lettered typography and classical fonts being reproduced digitally are going to be everywhere. It's exciting considering how limited we have been even the past few years.
Collis: This past year certainly saw more video backgrounds, animated GIFs and simple icon animations. But best of all, we're seeing more and more UI [user interface] and interaction-driven animation. The next year should see both a rapid proliferation of UI animation as well as a sharp increase in the tools for creating it.
Kit: Modular design templates and snazzy grid layouts, using cards to display all kinds of content, allow for huge amounts of customization. These things really allow us to do a better job designing sites for our clients.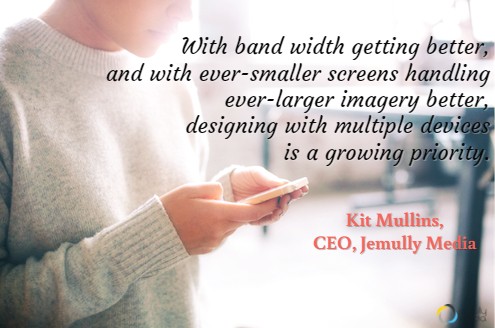 Collis: Just as the web page was the Internet's de facto unit of content, so the 'card' appears to be the mobile and social era's. While heralding card design as the future of the web first started happening quite a while ago, it certainly feels like we're hitting a tipping point for this simple but elegant medium – especially given the coming explosion of small interfaces, be they a HUD in your car or a watch interface on your wrist. In 2015 we'll see more and more application of card design in an increasing variety of places, whether it's a simple web portfolio, Mailchimp's Social Cards feature, or Google's new visual promotions tab which uses cards to vastly improve marketing email.
Kit: With bandwidth getting better, and with ever-smaller screens handling ever-larger imagery better, designing with multiple devices is a growing priority. Wearable tech is really going to happen.
Collis: Making things simpler for the user (both professional designers and theme users) is a trend that can only continue to build momentum. I expect we'll see more ground gained on both fronts next year as everyone works to make web design simpler in the face of proliferating screen sizes, display types, and other demands on the modern web designer.
Kit: There are a few splashy products on the horizon from some of the biggest brand names. It will be interesting to see what impact Google's Material Design and Microsoft's rumored "Spartan" browser will have on the rest of the industry.
Collis: In many ways Material Design is to design, what Bootstrap is to quick application and web development. A simple, no-fuss framework that is easy to apply, speeds you up and is hard to go too wrong with.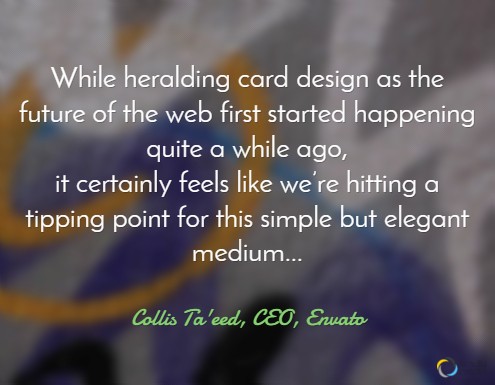 Kit: The concept of "the fold" is obsolete. Flat designs and endless scrolling have made it so. Material Design may be essentially a revamped, standardized version of flat design.
Collis: 2014 was the year that Sketch really started going mainstream amongst designers. It's hard to see a day go by on Designer News without a Sketch-related resource being posted. I think 2015 will continue to see Sketch take up where the ill-fated Fireworks left off. And soon we will see the launch of the very well-funded web design tool called The Grid. This new entrant promises nothing less than an "AI" driven experience. Don't worry though, this isn't Skynet – our websites aren't going to turn on us yet.
Thank you to Collis and Kit for contributing, and thank you for reading. Stay tuned for Part 2 of our look-ahead, Jemully Media's list of 10 Website Trends for 2015!
Have a different idea for web design trends 2015? Lay it down in the comments!