On October 11 of 2018, Facebook had an exciting announcement: 3D Photos! What? How can an image be 3D image taken on your iphone? Well, if you would like to explore all the science behind this new feature, you can visit this article published by Tech Crunch. And if you would like to learn about how to create a 3D image for Facebook and a few tips, read on. 
What is Facebook 3D?
Facebook 3D is a feature that allows you to post photos on a Facebook page using a technology that conveys a sense of distance, depth of field, and separation, between the subject in the foreground and the objects in the background. To do this, Facebook 3D essentially draws from a "depth map" made by the iphone when the image has been taken using the iphone's built-in "dual camera" function.
The iphone snaps two images simultaneously, each with perspectives that are slightly different, then, applying some custom-software enhancements, joins the imagery into one frame, giving the illusion of depth. This feature brings scenes to life, even suggesting movement, and in doing so creates "thumbstopping content."
We shot a couple of images as an example. One of a teacup on the desk and another of one of our owners, Jesse Mullins. To view our test images, scroll back to January 24th and see the 3D pics action on our Facebook page!
Some things to note
There are a few things about this new feature that need to be pointed out. You may find them helpful.
A 3D picture can be posted only by an iPhone and only through the Facebook mobile app.
Choose your background wisely. You'll want to select one that is distinct and clear so your foreground and background will contrast correctly. (Notice the horizontal line on the edge of the desk in our teacup picture. The desk edge doesn't work well in the 3D.)
Your picture must be taken using the portrait mode, which is a feature found only on iPhones generation 7+ and higher.

Not all portrait mode photos will work with Facebook 3D.

You can view your picture live with the 3D feature on any device, but it must be through Facebook.
When you come across a Facebook 3D photo, you will notice that the subject of the image has been separated from the background. By tilting your phone, the subject in the image will be in shown in 3D.
How do you use it?
First, you must enable the feature on Facebook through your iPhone. (See the graphic on the right.)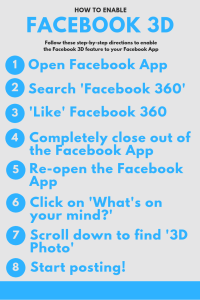 From there, you can take a picture of whatever you'd like to showcase, but as mentioned before, it must be taken on an iPhone using "portrait mode," which is a feature included only on iPhones 7+, 8+, X, and XS. However, if you have an earlier generation iPhone, you will nonetheless be able to view these 3D photos should they show up on your Facebook timeline. Once you have taken your desired photo, you will post it using the "Facebook 3D" feature.
Why should you use Facebook 3D?
This feature automatically opens up a wide new range of creativity for brands because it allows them to display what they have to offer in a form far more innovative than just another 2D picture. Choosing to use this feature also helps brands display how they stay up-to-date with the newest marketing trends. With Facebook always changing their algorithm, it helps to stay up with the latest trends and directions. That being the case, using the 3D feature can be a business's secret weapon to get more impressions, as Facebook will push interactive, innovative content towards the top of news feed.
A few tips from the 3D pros
Create layers.
3D Photos use the depth maps that are stored with "Portrait" photos taken on iPhone 7+, 8+, X or XS. You'll get the best results if your main subject is three or four feet away from the background, and to really make it pop, try to capture scenes with multiple layers of depth, including an object or layer somewhere forward of the main subject (that is, closer to the camera than the main subject is), plus another layer behind/beyond the subject (that being the background we were discussing earlier). Think of a photo of a family seated in a field of flowers, with the camera held low so that some flowers are in the frame nearer the lens than the family is, and other flowers are visible some feet beyond/behind the family.
Keep contrast in mind.
You'll get more of the 3D effect when your photo's subject has contrasting colors—for example, someone wearing a blue shirt standing in front of a blue wall won't pop as much as someone wearing a different color.
Use texture.
Some materials and subjects make better 3D photos than others. You'll get the best results from subjects that have some texture to them, have solid edges, and aren't too shiny. Try to avoid transparent objects like clear plastic or glass, as they aren't always accurately captured by depth sensors.
Although Facebook 3D is relatively new and there will be small imperfections, it should not stop a business from exploring and trying new features. So, get out there, take a portrait photo, and start posting away!