What is the Google Knowledge Panel?
The Google Knowledge Panel is often called your "Google Business Profile".  Regardless of which label you choose to give it, you will want to claim it for your business.
How do you find it? Whenever you're on Google.com doing a search and you type the name of a company into the search bar and hit "enter," the results you get back will often include something called a "Knowledge Panel." Displaying somewhere on your computer or device screen, the Google Knowledge Panel is a box of information about that particular business. The basic panel is assembled by Google and includes location and contact information, a photo of the street view of the business, and a link to the business's website.
Google describes the Panel in this way:
Knowledge panels are information boxes that appear on Google when you search for entities (people, places, organizations, things) that are in the Knowledge Graph. They are meant to help you get a quick snapshot of information on a topic based on Google's understanding of available content on the web.

Knowledge panels are automatically generated, and information that appears in a knowledge panel comes from various sources across the web.
Where do you find the Panel?
Why do you need the Google Knowledge Panel?
VISIBILITY
First, you need the panel because is that it is highly visible real estate on Google's search results page. The images it displays and the box around the panel draw the attention of the user's eye. If Google creates and displays a panel for your business, you'd be crazy not to take advantage of the opportunity to provide accurate, complete and optimized information that could bring you new leads.
LOCAL SEO
How to use the Google Knowledge Panel?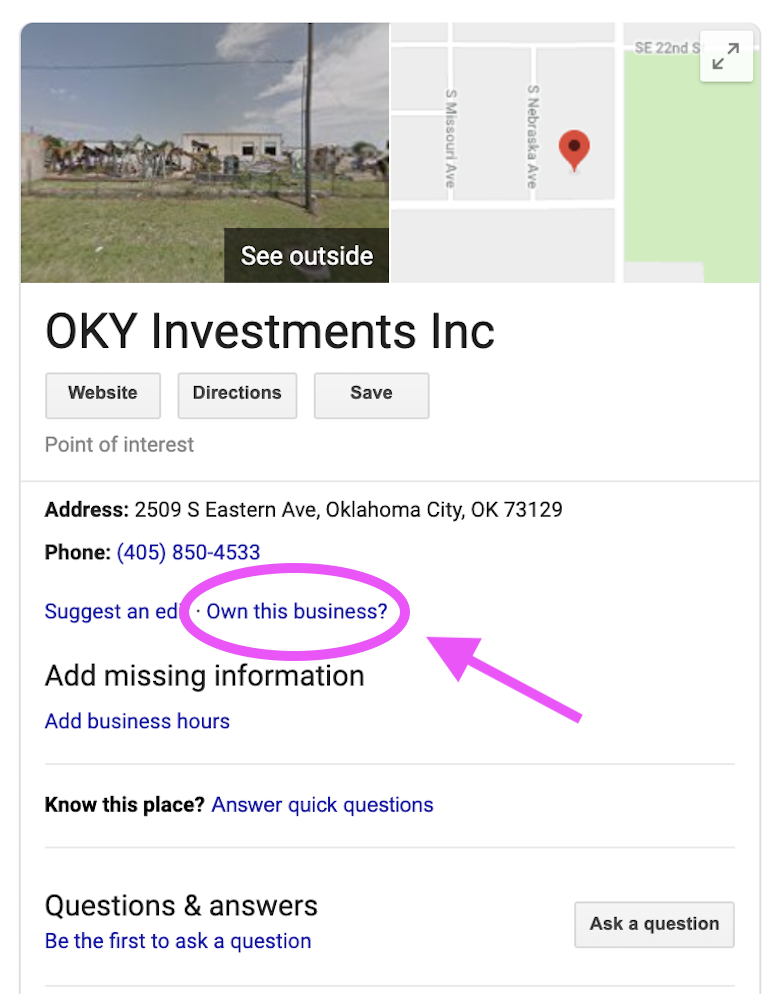 Claim Your Knowledge Panel
To get started, if Google has auto-generated a knowledge panel for your company, Google lets you "claim" and verify your business information. The easiest way to begin this process is to click the link on your company's knowledge panel that says, "Own this business?" This link takes you to your company's listing on Google My Business. (Note: If Google has not auto-generated a knowledge panel for your company, then go directly to Google My Business and register your company.)
Once you get to your Google My Business page, you will complete a very simple five-step questionnaire to confirm your business information.
After you confirm the business name and location, you will be asked a series of questions like "Do you also serve customers outside this location?" (Google supplies some help here by saying, further, "For example, if you visit or deliver to your customers, you can let them know where you are willing to go.").
Then, you will be asked to choose a category/industry for your business and you will be given an opportunity to add your website address.
Migrating Away from Google My Business Interface
Of note, Google is migrating business owners away from the Google My Business interface to manage their knowledge panel. In July 2022, Google is giving businesses access to manage their profile directly on Google Search and Maps. You can even manage your profile right from the Maps app. Google states in the Business Profile Help page:
With a Business Profile on Google Maps and Search, you can:

Edit your profile: Easily update your business information, adjust your hours, or add a menu.
Promote your business: Add photos or updates to stand out on Google.
Connect with your customers: Connect with your customers by responding to reviews and questions.

Important: Certain features to manage your Business Profile may differ between Google Maps and Search, and the operating system.
Verify Your Business
The final step is the actual verification of your location. Google wants to verify the business address by mailing a verification code to the physical address you have listed for the knowledge panel. This usually takes five to seven business days. Once you receive the code in the mail, you will return to the Google My Business page, log in, and enter your verification code number. Then, your listing is verified.
Pro Tips for the Verified Google Knowledge Panel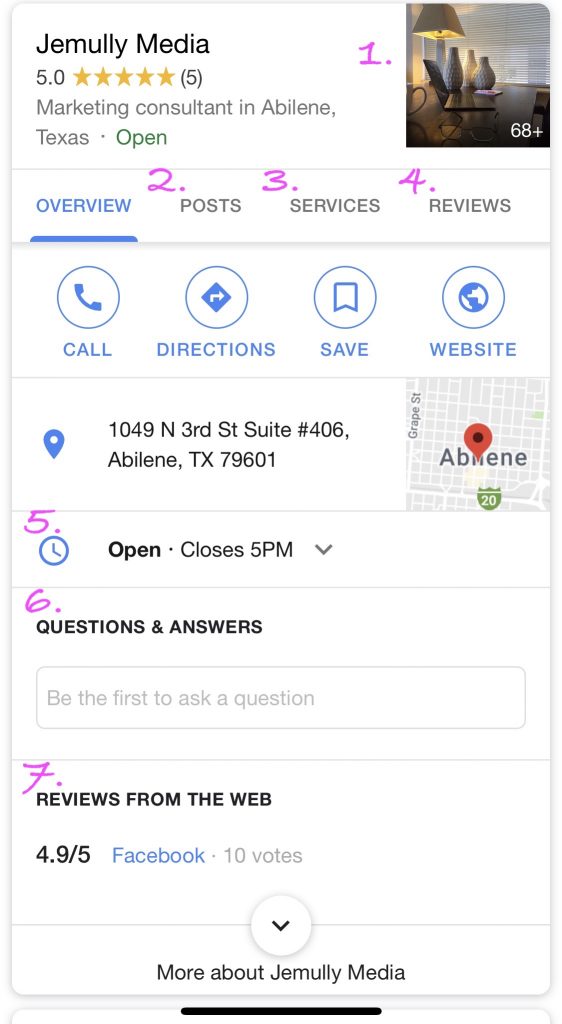 After you verify your listing, you will see additional features that are available only to verified businesses. Here are some suggestions for getting the most out of Google's business panel.
Pictures (or videos) – To show a potential customer what your business is like, add images showing the inside/interior of your location and some pics of your staff. Photos of your facility's exterior, or of the grounds, can be helpful, too, for some businesses.
Posts – We recommend adding short posts of 150-350 characters to your company's panel. The posts can be up to 1,500 characters, but brief is often better. This is one more place on the web where your content marketing can live and work for you.
Services – Highlight your business, services, and the benefits you provide to your customers.
Reviews – When you have a happy customer, ask him to give you a Google review on your business panel. These reviews are quickly spotted by potential customers and could work in your favor to bring you leads.
Hours – Let your customers know when you are open so they will be encouraged to call or drop by.
Q & A'S – Use the panel to answer questions for and by potential customers.
Facebook Reviews – Google gives value to a business's social media presence. Here on the knowledge panel, Google displays the review/rating from your Facebook followers.
Playing the Google Game
Google commands 92 percent of the search engine market worldwide. Playing nicely with Google is to your advantage as a business. Some things, like exactly how Google weighs and measures your website for their search engine algorithm, are a highly guarded secret. Google lets you know some general things you can do to improve your SEO performance, but they keep the details to themselves.
On the other hand, Google business panel is one area of the Google universe in which you can have some control. Don't waste an opportunity to shine on the Google results page and make a great first impression to those who search. Claim and optimize your knowledge panel today!
If you need help to claim, optimize, and maintain your business profile on Google, just give us a shout and we will take care of it for you.