Our next great generation's verdict is in, and Instagram is now considered the most important social network, according to Business Insider. An estimated 52% of teens (13-17) were using Instagram as of April, and that number jumps up to 83% for teens in wealthy homes.
Whether or not younger teens are your primary target market, their affinity for Instagram means that's where we will all be heading sooner rather than later. If it took less than a decade for all of our parents and grandparents to get on Facebook, then how long will it really take for half of the U.S. to get on Instagram (especially when we're already estimated to be at 27.6%)? In short, this is happening.
Noting that Instagram recently added video functionality to it's formerly stills-based model, it's safe to assume that Instagram is in this for the long haul, and not content to be simply the latest fad.
Here are a few more reasons why using Instagram, in conjunction with your other social networks, should be a serious consideration for your business:
75+ million use Instagram daily
That's a lot of eyeballs.
400+ million use Instagram monthly
Remember how big it was when Facebook hit 500 million? We're almost there …
4.21% brand engagement rate
According to izideo, brands on Instagram get far more brand engagement than other social networks, including:
An estimated 60 TIMES more engagement

per follower

than on Facebook, and
An estimated 140 TIMES more engagement

per follower

than on Twitter.
90% of Instagram users are under 35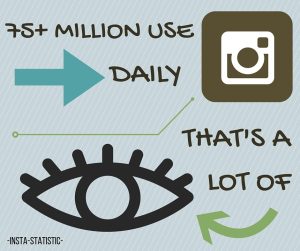 Expect regression to the mean when the less hip among us finally figure Instagram out.
98% of Instagram use is from a mobile device
53% of mobile use is from tablets
47% of mobile use is from phones
As if you needed another reason to cater to mobile technology.
75% of users are located outside of the U.S.A.
Hello, International markets!
Ironically in this case, "the kids" isn't necessarily referring to Millennials, but the teens and high-schoolers at the leading edge of yet another generation of youth culture.