Plunge into the '30's, 40's and 50's
The recent theatrical release of 
The Iron Orchard
, a film that plunges viewers into the West Texas oil and gas boom of the 1930s through 1950s, is a striking cultural marker that possibly signals a pendulum swing, or at least a cultural pushback, against the anti-oil sentiment that has so long held sway in American popular culture.
More, it perhaps signals a societal shift on a broader level, not just energy related or industry related. It perhaps is indicative of shifting winds in the Trump era. The mere fact that such a picture would be made at all is itself a sign of these changeable times in which we live.
Seeing the Sentiment Swing
Sixty-three years ago, when the motion picture 
Giant
was released, no sizeable faction in America had any real antagonism to oil and gas development.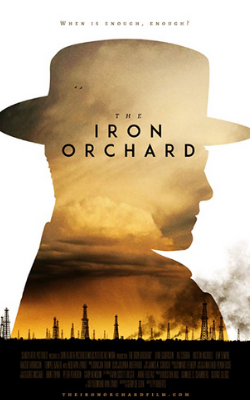 Oil and gas was, if anything, a blessing and a major contributor to national prosperity, and the fictional career of such a character as Jett Rink, played by James Dean, was nothing to draw consternation from any quarter.
By the 1970s, or even before, sentiment within certain segments of society swung against oil and gas. By the 1990s, with the rise of the green movement, more Americans adopted a disapproving stance toward hydrocarbon production (though still fully enjoying all its benefits, of course), and by the 21st century, with the green lobby fully mobilized, our industry found itself on the receiving end of a sustained bashing the likes of which it has never known.
Celebration of lives, it is not. Celebration of an industry, it is.
Given this trajectory, it comes somewhat as a surprise to see a fresh cinematic theatrical release that takes oil and gas as its milieu, even as its theme, and does so unapologetically and even in a somewhat celebratory fashion.

This is not to say that The Iron Orchard is a celebratory film. As a human drama, it traces an arc that goes from hardscrabble, Depression-era subsistence to grim pick-and-shovel drudgery to bootstrappy endeavor to rising success crowned by power and riches, and from there a downward course that sees slippage and decline, mixed with excess, booziness, and egotism, until finally the protagonist is in a state of utter collapse, his life a shambles and some of his closest contacts alienated, or casualties themselves. So, celebration of lives, it is not. But celebration of an industry—a case could be made for that. The Iron Orchard is a tribute to the innovation, the work ethic, the economic democracy, and the industriousness of the oilfield.
All of which makes it disappointing that this film did not receive wider theatrical distribution upon its late-February release. From what we at OK Energy Media could tell, based on some weeks of observing the film's website (theironorchardfilm.com), the number of theaters playing the film has contracted significantly. The bulk of the distribution was in Texas, understandably, but outside that state there were few movie houses that booked it. It has shown in New York, Los Angeles, New Orleans, Baton Rouge, Bakersfield, and Denver, but that's apparently the extent of the outside-Texas reception it's gotten. We couldn't find any Oklahoma theaters that are showing it, but our information there might not be complete.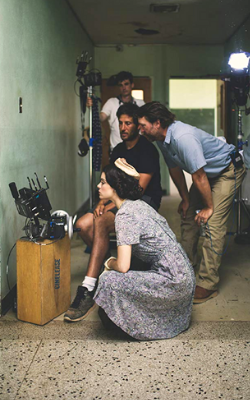 Another nod to the past
The film had the financial backing of numerous oil and gas interests from the Permian Basin, some of which participated through an association called the Wildcatters Network and others through the film's production company, dubbed the Santa Rita Film Co., a reference to a 1923 discovery well (Santa Rita No. 1) that kicked off production in what is now known as the Permian Basin.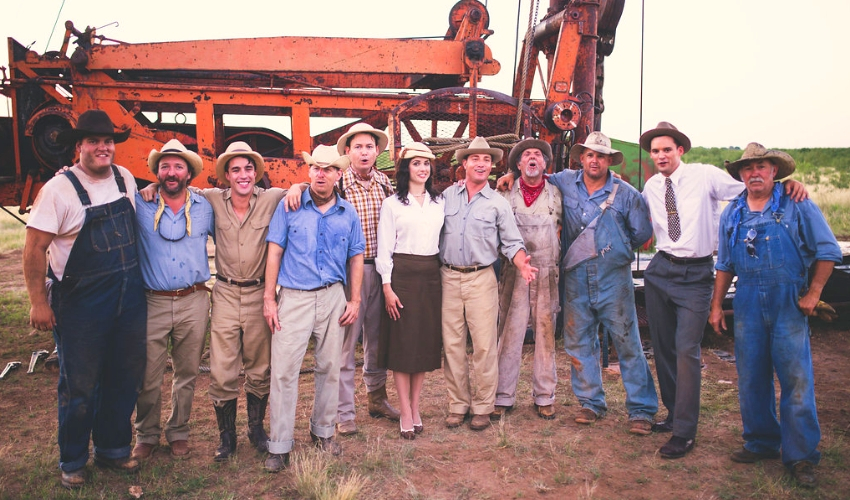 Lane Leading the Way
The movie's leading man, actor Lane Garrison, has made it known that he grew up in Odessa, Texas, during a time when his father worked as a roughneck. Like the character he plays—Jim McNeely—Garrison came from a tough background, having lost his parents when he was young, having known poverty, and having had setbacks and rejections. He has described his part as, for him, the role of a lifetime.
The Iron Orchard follows the life and career of McNeely as he starts at the bottom, grinding in the trenches and doing onerous manual labor for a pipeliners outfit. From his rough-and-tumble beginning he keeps alive a dream of making his own mark in life someday—ostensibly to gain a comeuppance in the eyes of people who have trod him down or cost him opportunities or romance or dignity.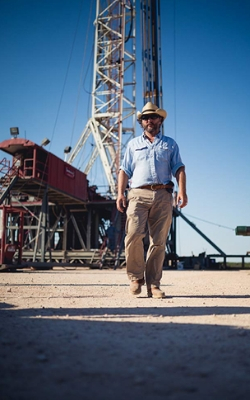 He charts a course that takes him to the top ranks among wildcatters, but then infidelity, arrogance, over-confidence, and profligacy drag him down until in the end he is shattered. We get a glimmer of hope for him when his first wife comes back to him in his broken state, hospitalized for heart trauma and crushed by others' deaths and his own financial collapse. She takes him, at film's end, to convalesce at her own now-humble abode, where we sense he will at least find the reward of someone's love, whether he can pick up his own life or not.
A novel idea
The film is based on the novel of the same name. Here's how Amazon.com (admittedly not an impartial source) describes the book:
"Originally published in 1966 under the pen name Tom Pendleton (real name Edmund P. Van Zandt), The Iron Orchard garnered a cult following for its authentic representation of the people and business of the Texas and American Southwest oilfields. It tells the story of a young Texan, Jim McNeely, who is desperate to make a name for himself in the oilfields of Texas. Told from the inside by a man who knew the oilfields intimately, it is a vibrant, brutal story of the men who labored, sweated, lusted, and gambled their money and spirits to pump oil out of the earth. It is the adventure of violent men among other violent men. And it is the story of perseverance and love in the midst of one of America's most dramatic industries. The Iron Orchard is magnificent and memorable reading. It was a co-winner of the 1967 Texas Institute of Letters Jesse H. Jones Award for Best Work of Fiction along with Larry McMurtry's The Last Picture Show."
Director Ty Roberts, himself a Texan, did a good job of being faithful to the book and its spirit.
Audience Appeal
The picture was the Audience Award Winner at the Austin Film Festival and has been included as an entrant in other film festivals, including the Salento International Film Festival in Hong Kong.
In the end, The Iron Orchard is a comeuppance not for its protagonist, but for an industry in general. And maybe it's not so much that oil is celebrated as that it is simply not denigrated—which in this day feels like a triumph of sorts. In this film, natural resources and self-made gain are the open estate of everyone, even anyone—not just a privileged few; grit and determination are virtues, not just the traits of the greedy; self-realization is something self-determined, not merely gifted by circumstances or proferred by society; and yet fulfillment is perhaps still, as it has always been, a function of one's own heart.