Can you believe November is already here? 2017 has gone by in a flash, and we have enjoyed discovering and implementing this year's marketing trends. As we get ready to plan for 2018, it is important to determine what trends will roll over from this year. Ringing in the new year is usually about refreshment and revitalization, but that doesn't mean we can't keep what is already working! From experiential marketing to best-performing media types, we will run through what we loved and help you predict what to keep around in your planning.
Video Content (pre-recorded or live)
As you probably know, video is by far the most popular media content type in the social media world. Whether it's pre-recorded and edited, or a live production, people flock to this kind of content. Why, you might ask? Well, this is true for some of the same reasons people enjoy movies. When done right, they can deliver condensed messages with an added entertainment factor, and increased engagement, while not asking too much of viewers. We expect that this trend is actually the new normal and will continue indefinitely. It's probably best to get acquainted with video content sooner rather than later as new developments like virtual and augmented reality are beginning to popularize. Learn more about the power of video from a previous Jemully Post article here.
Personalized Engagement
Over the past couple of years, we have seen a growth in lengths brands will go to in order to increase the personalization of their engagement. This includes organic paid and owned content; ads, organic social media posts, community management efforts, email marketing, and direct mail. Personalization in direct mail has been common for some time now, but it is still relatively new in the digital space. With the expansions of new technology, the information marketers can get about their target is becoming more and more detailed. This will continue in 2018. This is certainly something brands should take advantage of, but there is a line between making the most of an opportunity and being creepy. Don't be creepy!
Data
Data, data, data. Man, we LOVE data! Getting it is one thing, but what you do with it is entirely another. In 2018, we will continue to see data be a big player in helping brands better reach their target. We will also likely hear more about errors in data—so keep your eyes peeled for that. Remember, if you aren't keeping a focus on key ROI-factors including website performance and customer retention/satisfaction data, then data is just a bunch of numbers. Having all the data in the world will not help unless we can be purposeful and strategic about it. Stay tuned for more from us on the role of data before the end of the year!
Transparent Branding
One of the largest spread trends we have seen explode is brand transparency and authenticity. People have had enough of the shallowness that comes with the constant self-promotion made possible by our myriad media. There is nothing more appealing now than a brand with an authentic altruistic streak. It can be easy to get a little "stuck in the weeds" with this effort, but really the focus simply needs to be on gaining and keeping the trust of your customer. Rather than strictly getting them to buy, show them how you can help them (and in some cases, make the world a better place). We don't see this trend going away either, so you will want to set yourself up for success by developing your brand's honesty and disclosure ASAP!
Converged Media
Similar to our message in our blog post about integrating PR with your digital efforts, one major trend that will roll over into 2018 is the merging of media tactics. Although it was common to keep media efforts somewhat separate, it really is beneficial to bring all of your efforts (social media posts and ads, blogs and articles, email marketing, visual media, videos, landing pages, etc.) together. Content marketing shareable on multiple platforms should be the pivot point for this, as it provides an easier vantage point to integrate all of your media in a more seamless fashion.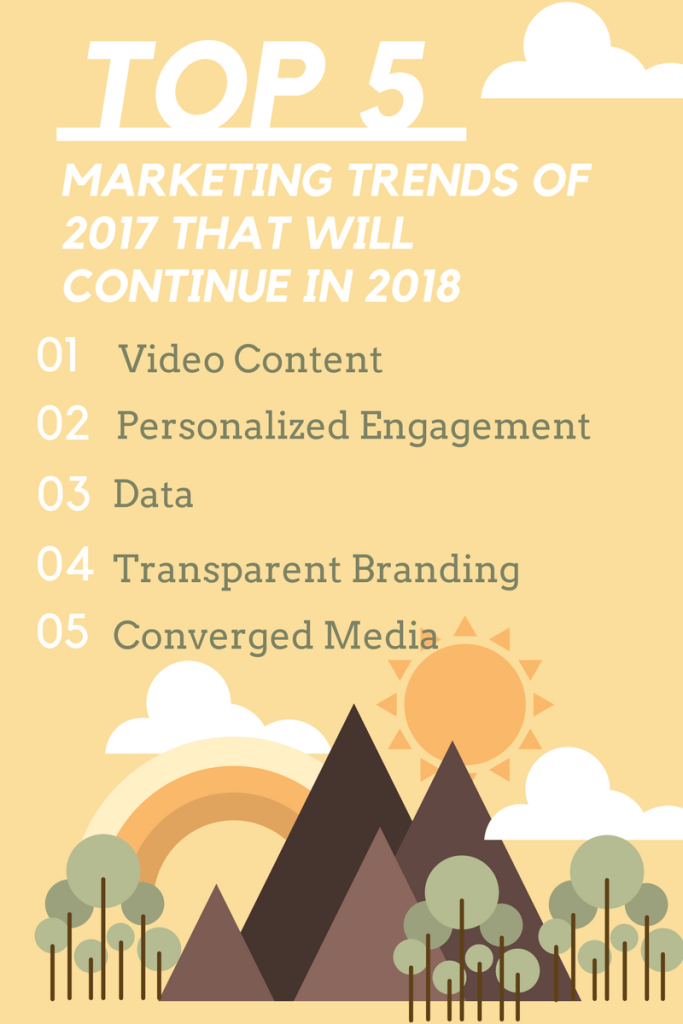 We look forward to seeing how these trends morph in 2018, as well as what new trends emerge. What are some of your favorite trends in 2017? We would love to hear from you!