Without further ado, here is Jemully Media's list of what we're most excited about in the realm of web design this year. For more, check out our piece from last week featuring comments from two CEOs in the industry speculating on 2015 trends in web design.
Storytelling
This one is especially important to us at Jemully Media. The Internet is getting continuously more and more crowded, and it will take a dedication to high-quality, meaningful content to stay atop the search results in your industry. A growing number of forward-thinking companies will start business blogs to tell their stories and provide their searchers and potential customers something worth searching for.
People spend an awful lot of time searching the Internet. They aren't always looking to buy; rather, they are searching for answers. More and more, answers are being found not on question and answer forums, but on company blogs. If you're an IT company, wouldn't you prefer someone finding the answer to their tech support question on your blog instead of on an anonymous message board?
Animation and Interactivity
As web users become increasingly sophisticated, so do the websites. Proliferation follows innovation, and now many of the website features that made us say, "that is so cool," a few years back are becoming readily accessible to the non-computer-science grad. What this means is we will see more websites breaking out the gadgets such as boxes that zoom into place as you scroll down the page, or those slick mouse hovers that react to the direction your mouse is moving. These things used to drop your jaw; now they're short code and relatively user-friendly. While we expect content to remain king, cool animations such as these are going to start popping up on small business websites like never before, further enhancing the web user's online experience.
Custom Videos
Internet video has been big business for years, but the importance of this medium is still coming to a head. Creating videos for your business ties in with storytelling and is a way to convey your message to the reading-averse. Look for video to be used in new and exciting ways, like full video backgrounds rather than static images on websites. Videos serve many purposes: providing a visual component for your company's personal story, creating a long-form ad that wouldn't play as well on TV, or making a user-friendly guide to your fancy new website, to name a few. Getting your video up on YouTube will immediately improve your search performance. Whether you think you're searching for a video or not, custom videos are going to become even more of a major staple of the online experience. This isn't even counting all the YouTubers whose business is video content. There's a reason that a few months ago, Mark Zuckerberg predicted that Facebook will become a video-dominant platform within a few years.
Retro Fonts
Script-based (and by "script," we mean cursive) and other hand-lettered fonts have been all the rage recently. There will undoubtedly be many new fonts, but look for a surge in classical calligraphy over the obviously computer-perfected serifs we have grown accustomed to on the web the past few decades. New-ish fonts ultimately mean more options and more ways of adding a dash of personality to projects.
Mobile Optimization
Mobile first! For years, that has been one of the buzziest phrases in web designer circles. There are well over a billion mobile web users (and the number is growing), so catering to the early-adopter crowd is as important as ever. It seems that the pros are beginning to substantially outweigh the cons of mobile first. The pros add up to legitimate improvement, and the cons tend to be of the complainy, "mobile first design gives me headaches," variety. In the long run, legitimate improvement will always win this battle. The terminology has even become more friendly!  We used to call it "graceful degradation" from large screens to small, but that phrase has given way to the term "progressive enhancement." I may be but a humble writer, but subtle linguistic changes like this tell me that the design world has finally talked itself into going mobile and is not looking back.
Perfecting the Flat Design
Flat designs are way in and have been for a few years now. It's what we're currently using at Jemully, and we've recommended it to a number of clients. By putting the emphasis on scrolling through lots of information on one page (rather than clicking through many pages), your content becomes device-friendly, and the experience doesn't suffer from unnecessary load times. The flat design is trending for users and designers alike. Look for an explosion of change and growth in the capabilities of flat sites. They are already innovative, but we can be sure flat sites to become more robust and feature-rich over the next year.
Google's Material Design could be the next evolutionary step for flat design. It will be another thing we keep an eye on in 2015.
Minimalism
Although this section may seem like a contradiction of the "Animation and Interactivity" section, it doesn't have to be. There is no reason a website can't integrate tasteful animations into a minimally designed space. As such, don't be surprised to see the eye-popping flair of websites get toned down a bit (though they'll continue improving in functionality). There has almost always been a sect of the design world that takes the "less is more" approach, but the web is now mass media. It's going to take a lot more than a vocal minority to raise the standards of negative space usage, and we just might see that strong push in 2015. As the bar is raised for imagery, video, and typography, look for websites to start figuring out how to direct searching eyes to these features by removing the clutter from around them. Look for a minimalist push from large and small brands alike in 2015.
Unvarnished Styles
In a way, this has been addressed in our sections on Retro Fonts and Minimalism, but "unvarnished" takes that mindset and goes a little deeper. Perhaps we could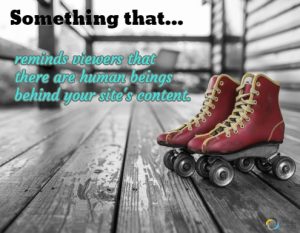 call this a rustic or humanist style. Or, in the appropriate context, Lo-Fi. Whatever you call it, this trend satisfies the need for a little uniqueness in your website. Maybe it's hand-lettered typography, creative use of imagery, or something else that just doesn't look obsessively machined to pixel perfection. We're talking about the kind of website touches that remind viewers that there are human beings behind your site's content. The unvarnished feel also goes hand-in-hand with story telling and will be sought after by many companies trying to connect with web users.
App Takeover
Mobile web use is app-heavy. Browsers are still important, but the experience is almost always improved by using the application rather than the browser version. In app design, one needn't toil within the constraints of responsive web design, and apps aren't as clunky as working on responsive sites. Look for a blurring of the lines between regular sites, mobile sites, and apps to occur. This could mean any number of things, including increased use of cards, web features optimized for a finger rather than a mouse, or a departure from traditional navigation among many others. Ultimately, a high tide raises all ships. The increased attention paid to apps will spill over into conventional sites, making Internet usage better than ever, no matter which platform you prefer.
Growing Divide Between Custom and DIY Sites
There have always been steep barriers to entry for custom websites. Basically, you need either extensive coding knowledge or a lot of money to pay someone who has it. Coding still may not come cheap, but the building of robust websites has definitely become more user-friendly in the past few years. Look for this trend to continue. As websites become more and more sophisticated, the basic tools get easier to come by. Small businesses will likely face tougher decisions than ever before, namely: is it finally worth it for me to invest in a custom website? Observing the quickly-widening quality gap between custom sites and merely functional DIY sites, we expect more and more business owners to answer "Yes" in 2015.
Thank you to Founders Grid and their excellent compilation of designer interviews which were a touchstone for this article.